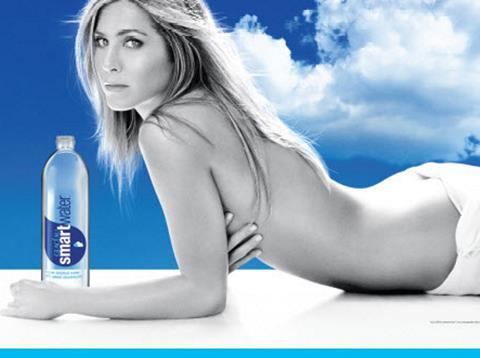 Does water tastes better with Friends? Coca-Cola Enterprises (CCE) thinks so, and has recruited Jennifer Aniston to front the UK marketing push for bottled water brand Glacéau Smartwater.
Aniston, who is already the brand's spokesperson in the US, will provide the voiceover for a TV ad and feature in an outdoor campaign across 4,500 sites. A digital campaign will include new Twitter and Instagram feeds.
The launch comes as the category continues to see impressive growth, with last year's sales of £772.5m up 10.6% on the previous year [Nielsen 52w/e 4 October 2013]. CCE hopes to differentiate its product by its unusual bottle sizes - 600ml and 850ml - and the method of vapour distillation used to produce it, which the company describes as 'unique'.
CCE's VP sales and marketing Nick Canney said Glacéau Smartwater had become the market leading premium bottled water in the US, and that it hoped UK consumers would take to the product as enthusiastically.
"Bottled water is a key growth sector for our customers and a marketing campaign of this scale will help to drive widespread consumer awareness," he added.
Aniston is a familiar face in UK adverts, having represented cosmetics brands including L'Oreal Elvive and Living Proof shampoos.