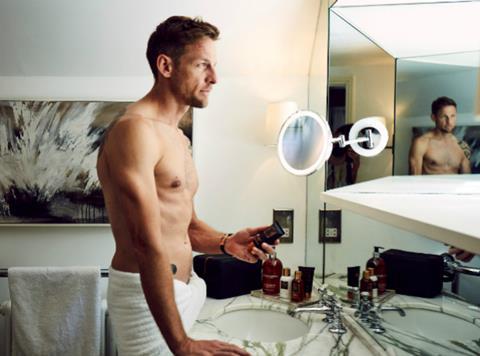 Personal grooming brand Baylis & Harding has unveiled former Formula One world champion Jenson Button as its first-ever male ambassador.
The sportsman has been chosen to showcase Baylis & Harding's collections for men, including Black Pepper & Ginseng; Sport; Skin Spa and Fuzzy Duck.
Button, who had been chosen for his "appreciation of style, and desire to stay fresh by day and immaculate by night" said Baylis & Harding. "It is also great timing as the men's grooming ranges are the fastest growing part of the business, and it is a demonstration of the brand's continued commitment to the category."
As part of the tie-up with the family-owned brand Button, who currently drives for SMP Racing, an endurance motorsport team, will wear its logo across his racing assets, including car, suit and helmet.
Founded by siblings Adrian and Tania Slater, Baylis & Harding was "an iconic British brand" he said. "The men's range and the overall direction of the brand is really exciting, and I am delighted to be a part of the Baylis & Harding family."
With motor racing a "personal passion" of Adrian Slater, Baylis & Harding has been involved with the sport for some years, including via sponsorship of the Porsche Club Championship's Paragon Porsche team.