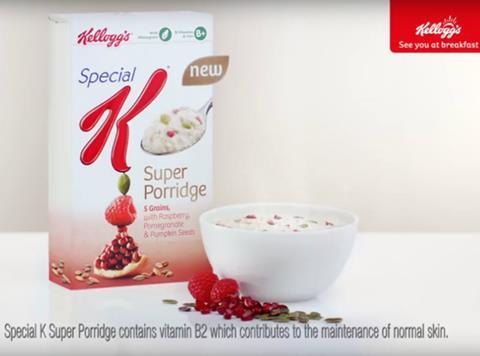 Kellogg's has been censured by the ad watchdog for making unclear claims about the nutritional benefits of Special K cereal.
The Advertising Standards Authority received a complaint from a consumer about two ads for the brand – one on television and the other online. The TV commercial, broadcast in October, featured a voiceover stating: 'Special K: full of deliciousness; full of colour – and now with pomegranate, pumpkin seeds and raspberries. Our new five grain super porridge is full of goodness.' On-screen text read: 'Special K porridge contains vitamin B2, which contributes to the maintenance of normal skin.'
At the same time, the Special K website claimed its trademarked Nutri K flakes were "made with our unique Nutri K recipe, making a nutritious and delicious start to your day".
The ASA upheld the consumer's challenges to the TV ad on the grounds the text did not appear with or immediately follow the voiceover – which breached EU rules that allow references to general health benefits only when accompanied by a specific authorised health claim.
With regards to the online ad, the ASA acknowledged Kellogg's view that 'nutritious' highlighted the credentials of the Nutri K flakes – but without further information they were likely to interpret it as a claim about Special K in general.
From the home page – on which the claim first appeared – consumers had to click through a further two pages to reach the dedicated page for Nutri K flakes, which listed a specific authorised health claim alongside a list of nutrients. However, accompanying specific health claims must appear next to or immediately following the general health claim – and the home page therefore breached the advertising code.
Neither ad should appear in its original form, the ASA ruled.
A spokeswoman for Kellogg's said the supplier was pleased the watchdog had recognised the authorised health claims of Special K and apologised for "the error in not ensuring this was made clear enough for our consumers. This has now been corrected."