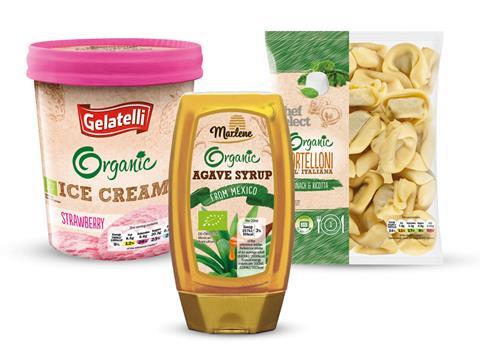 Lidl is set to launch its latest Organic Week promotion next month, highlighting a tranche of own label organic products priced at under £4.
With the intention of "making organic food affordable and accessible to all", the discounter will kick off its push on 1 February, with 28 featured organic SKUs across numerous categories – including "popular on-trend items" such as puffed quinoa (£1.99), agave syrup (£1.99) and virgin coconut oil (£3.99). They are joined by the likes of ice cream in three variants (£1.99), smoked salmon (£2.99) and a trio of fresh pasta (£1.29).
The new selection – aimed at "health-conscious foodies" – followed the Soil Association's 2017 market report showing a 7.1% year-on-year rise in the UK's organic food and drink sales, according to Lidl.
The retailer wanted to dispel the "myth that buying organic has to always mean paying over the odds" said Roxanne Inglis, head of food promotions for Lidl, which kicked off its previous Organic Week, its third such promotion, last August with a range including olive oil, brown rice and prosciutto.
Earlier this month, the Organic Trade Board secured a £1.7m loan from Triodos Bank to support the continuation of its Feed Your Happy marketing campaign – launched in September 2017 with the ambition of boosting the UK organic market by 5% each year until 2020.