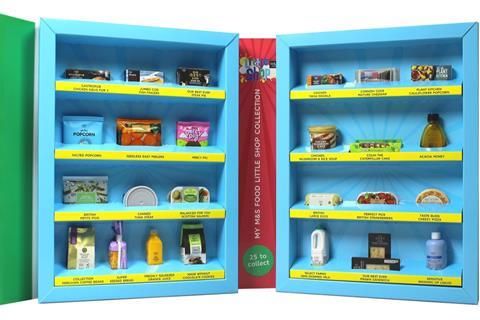 M&S is giving away miniature plastic toy models of its most popular food products to customers spending £20 or more.

There are 25 to collect in a promotion launched today, aimed at boosting basket size, customer loyalty and M&S's appeal to families.

Called Little Shop, the promotion is the first version in the UK of a campaign that has proved popular for retailers internationally, including Coles in Australia. It's the work of Unga, a Netherlands-based company specialising in retail loyalty campaigns, which supplies the toys.

The miniaturised M&S products - or 'Little Shop collectables' - include Canned Tuna Steak, a Chicken Tikka Masala ready meal and Our Best Ever Prawn Sandwich, along with Percy Pig sweets.

Each £20 spent in M&S Food earns one, so a customer spending £40 will be offered two.

Around three-quarters of the 25 are plastic, while the rest are made from card certified by the Forest Stewardship Council, M&S said. All come in paper packaging.

Unga announced last month that its toys were now available in sugar cane-based bioplastic, but the option arrived after M&S's miniatures had been produced, according to the retailer.

McDonald's came under pressure from the BBC's recent War on Plastic TV series over giveaway plastic toys, when presenter Anita Rani and two schoolgirl campaigners attempted to return hundreds to the company's London head office. The programme had visited an east London recycling facility, where McDonald's giveaways were found among a pile of discarded toys.

M&S said its miniatures were designed to be reused, and that customers who no longer wanted them were encouraged to "give their collectables to family or friends" rather than throw them away.

Alternatively, they could bring them back to M&S Food information desks, and they would be distributed at 70 swap events to be hosted in the retailer's cafés. Any left over after that would be recycled by M&S at the end of the campaign, which is to run throughout the summer school holiday, according to a spokeswoman.

Shoppers can also turn down the toys in the first place.
"We are proud to have the exclusive contract to run Little Shop in the UK," said M&S Food MD Stuart Machin. "It's a big opportunity to broaden our appeal and we're hoping to see an increase in the number of people, especially families, that visit our stores."

The spokeswoman said: "Little Shop supports our plans to make M&S Food more relevant, more often to a family-aged customer and the collectable element helps build excitement during the summer holidays."