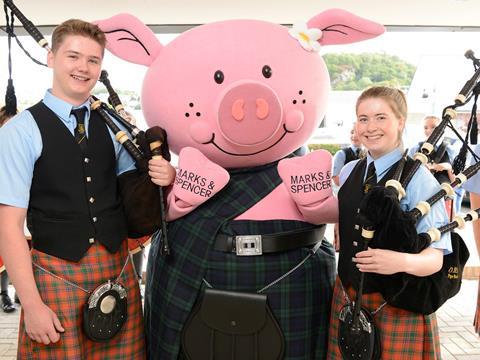 Marks & Spencer has launched a campaign to showcase Scottish products and suppliers to mark its centenary year in Scotland.

The retailer will stock more Scottish produce across its stores for the next two weeks and decorate its branches to mark the celebration. It will also conduct a four-month tour stopping at five locations across Scotland to profile its partnerships with more than 40 Scottish suppliers and 4,000 Scottish farms, while exhibiting never-before-seen archive photography of local communities commissioned by the M&S Archive.

The centenary taste trail will start in Dundee on 28 September, where M&S's first Scottish branch opened in 1918, and will host a selection of M&S suppliers to showcase their Scottish produce and tell their 'farm to fork' story to customers. The festival taking place at each stop will include free food tastings, live music, a demo kitchen, children's play area and 'smoothie bikes', which attendees can ride to make smoothies from Scottish fruits and berries.
The taste trail will then continue to Edinburgh on 6 October, Aberdeen on 20 October, followed by Inverness on 3 November, before ending in Glasgow on 26 January. Customers can follow the #marking100 hashtag.

"We felt it was important to mark our Scottish suppliers' and producers' contribution to our success during our celebrations, which is why our centenary taste trail focuses on food," said David Bates, regional director for M&S in Scotland. "We literally serve Scotland at the tills but we also serve Scotland economically through our supply chain, from salmon and crab to beef and vegetables, we have long-standing relationships with award-winning farmers.

"Our uniforms, products and stores may have changed over time but our commitment to Scotland is as firm now as it was a century ago. In modern Scotland that means building a supply chain that supports Scottish producers, offering quality jobs to local people and creating stores for a new type of shopper."

M&S currently serves two million customers in Scotland every week and employs around 6,500 people.