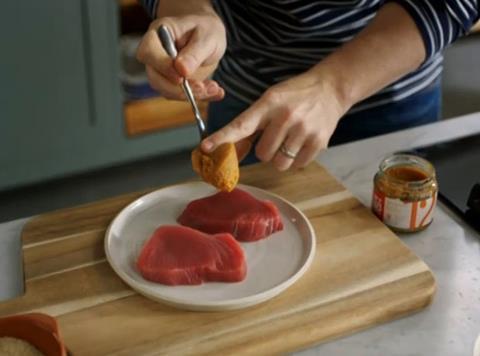 Sales of Miso Tasty paste have quadrupled after being featured by Jamie Oliver in his latest cookery show.

After the Essex chef praised the brand's red miso paste in the second episode of his Quick and Easy Food TV series on Monday, the brand said sales spiked overnight, with four times as many products as usual sold in Waitrose in the 24 hours after the show aired, and sales expected to keep climbing over the week. Some Waitrose stores had even sold out of the product, said founder Bonnie Chung, while online sales on the brand website had increased by 70%.

By praising the "amazing big meaty savoury salty flavour" of the brand's flagship product and using it to whip up his Sesame Seared Tuna dish, Jamie Oliver "has really put Miso Tasy on the map" added Chung. "Jamie Oliver has thrust our small brand into the mainstream, getting people excited about cooking with our specialist ingredients. It's a really important moment for us."

Launched in 2014, the Japanese snack brand secured £150k of investment via crowdfunding in March in less than 36 hours to roll out a new line of ramen noodle kits, and is now sold in Sainsbury's and Ocado as well as Waitrose. Founder Chung, who started the business when she was only 24, was one of the winners of The Grocer's Top New Talent awards in 2015 after being praised for her "whirlwind energy" and "charismatic character".

To read what some of the rest of our TNT alumni are up to click here and to enter yourself for the 2017 awards fill in our quick online form here.