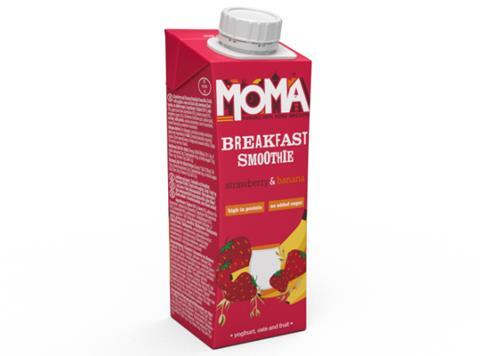 Moma Foods has overhauled its ambient oat-based drinks with a new name and a packaging redesign – only a year after the last revamp
Breakfast Smoothie is the latest iteration of Oatie Shake, the first product for the brand when it launched in 2005. It became Yog-Oat Smoothies in 2016 following a reformulation and the addition of strawberry & banana and mango & peach variants.
The recipe and flavours have been carried over to this year's rebrand, aimed at clearly communicating the drink's ingredients and health credentials – which the Yog-Oat branding did not do, said Moma.
Rolling out now, the new look aimed "to instantly portray the quality ingredients" via illustrations of fruit, yoghurt and oats. The "urban" logo and bright colours follow over from previous designs (£1/250ml).
Moma had "always been committed to innovation and evolution in line with consumer trends" said founder Tom Mercer. "These drinks are important to the brand and to me personally. We wanted to ensure we continue to evolve the product to match consumer needs."