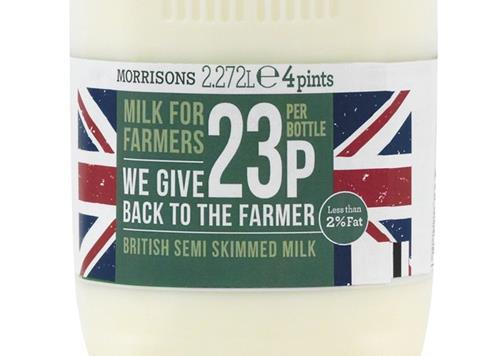 Morrisons has officially launched its Milk for Farmers brand in stores nationwide.
Shoppers can now choose between standard milk at 89p for four pints or the Morrisons Milk For Farmers brand at £1.12, with the additional 23p going back to dairy farmers.
Morrisons stores have also started selling Morrisons Milk for Farmers Cheddar Cheese in Mature and Extra Mature variants, priced at £2.52 per pack (350g) or two packs for £4, with 34p from each pack going to the farmers who supplied the milk used to make the cheese.
Morrisons announced plans to launch its farmer-friendly milk and cheese brand in the summer after bearing the brunt of farmer protests over collapsing farmgate and retail prices for milk.
The supermarket, which came under fire for its milk procurement policies, also committed to raising its minimum milk price and increasing the percentage of British Cheddar sold in stores to 99%.
Morrisons corporate services director Martyn Jones said the Milk For Farmers brand would demonstrate whether shoppers were willing to pay more for milk when it came to the till.
"When surveyed, many customers tell us that they are prepared to pay more for their milk to support British dairy farmers and this will be the first time they'll be given the opportunity to do exactly that," he said. "We will be giving Milk For Farmers our full support and the sales will show whether customers in our supermarkets are prepared to pay more."
Critics had previously accused Morrisons of "tokenism" and claimed the Milk For Farmers brand would do little to ease the plight of UK dairy farmers, with the additional money set to be shared by supplier Arla's 13,500 dairy farmers across Europe.
However, NFU dairy board chairman Rob Harrison today welcomed the launch. "We are pleased Morrisons has acknowledged the desperate situation many dairy farmers still find themselves in and recognise that retailers have a big role to play in helping customers support the UK dairy sector," he said.
He warned it was still an "extremely tough time for many dairy farmers" ahead of the autumn/winter period, and said the NFU would continue to meet with Morrisons, other retailers, foodservice and food manufacturing companies to discuss "how they can help achieve fair and sustainable relationships throughout the dairy supply chain for the long term".