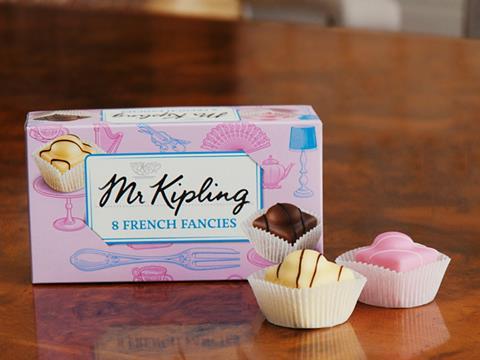 Premier Foods is injecting £4m into Mr Kipling, with the rollout of a new campaign that will see the return of the cake brand's 'Exceedingly Good' slogan featuring prominently.

The seven-week 'Exceedingly Good Distraction' push, from 11 April, features a new TV advert and sponsorship of ITV1's 'Everyday Favourites' time slot from June, supported by outdoor and in-store advertising.

The ad depicts a family gathered to view a honeymoon slideshow. A photograph the newlyweds don't want the family to see flashes up, but an embarrassing situation is prevented when Mr Kipling French Fancies provide an "Exceedingly Good Distraction".

The ad was designed to "drive and reinforce" the emotional connection between Mr Kipling and the nation's everyday memorable moments, said marketing controller Kelly Davis. With some "exciting activity" in the pipeline, it was the right time to return to the brand's 'Exceedingly Good' strapline - last used for a campaign in 2014, she added.

The push comes as Premier is locked in the middle of a tug of war between McCormick and Nissin. Premier bowed to shareholder pressure to open talks with McCormick, despite rejecting its improved 65p a share bid. It follows the signing of a co-operation agreement with Japan's Nissin, which would see the two companies sell each other's products in their existing markets. Nissin has built a 20% stake in Premier over the past two weeks to become its largest shareholder.