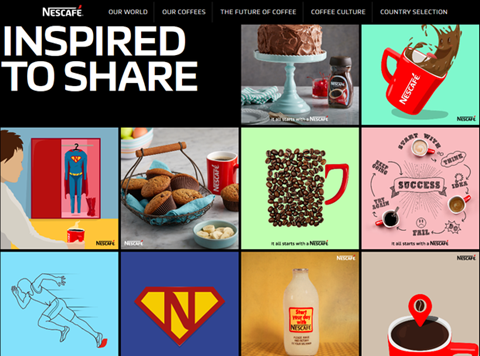 Nescafé has announced it is abandoning all its traditional websites in favour of content hosted on microblogging and social media platform Tumblr.
Claiming the move was a first for a global brand, Nescafé said it was designed to build stronger relationships with young consumers, and particularly millennials. It added it was moving away from "traditional social media brand pages and their 'rented relationships' with consumers to focus on creating real-life conversations with people".
Fans would be able to share images, videos and GIFs, said owner Nestlé, adding Nescafé was its top-performing brand on social media, with more than 35 million fans worldwide.
Nestlé claimed it would use Tumblr to take a "further lead in consumer-first communication and e-commerce, all optimised for use on mobile and tablet". The platform would also be used to suggest new "coffee creations, multi-sensorial flavours, and the coolest coffee experiences".
"Nescafé is a brand of people, of millennials, with a human-centric purpose: to start real connections and spark human warmth through millions of coffee conversations everywhere, every day," said Nescafé global strategic marketing head Sean Murphy. "The Tumblr partnership sees us bring this purpose to life around the globe. We're listening and responding to fans with 'owned media'. Fans expect brands to share the value we create, to be collaborative, open minded, mobile centric."
Tumblr boasts more than 250 million blogs and over 110 billion individual posts.