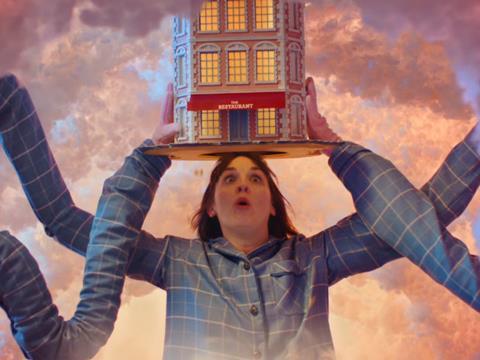 Pilgrims Choice has launched a new £2.5m ad campaign, based on the idea cheese fuels technicolour dreams.

The Ornua-owned brand hopes the epic dreamscapes, puppetry and CGI moments in 'The cheese of your dreams' push will help tip Pilgrims Choice over the £100m value barrier this year.
It aimed to build on the belief cheese causes dreams by suggesting the flavour of Pilgrims Choice was so powerful it could "fill dreams with flavour" every night, it said.

Social media activity around the campaign is set to begin on 21 May, with the brand targeting strong engagement and calling on consumers to share their own cheese-fuelled dreams for the chance to see them brought to life as animated gifs.

Chosen gifs are set to be shared on social media, as well as displayed on digital six-sheets at select retailers in a bid to further drive conversation and build following with personalised, shareable content.

The TV campaign, created by agency Above+Beyond, will air from 1 June. The first ad, called 'Charlie's Dream', sees surreal scenes from a childlike dream involving pirates, outsized limbs and a helping of cheesy pasta.

The push will also see the brand take on in-store sampling of Pilgrims Choice cheese toasties, following last year's campaign which saw flash mobs congratulating shoppers who chose the brand.

"The campaign reinforces that we're anti-bland and pro-punchy, it is how we think, act and how our cheddar will always taste," said Pilgrims Choice senior brand manager Lucy Washburn.

"We have always set out to disrupt category norms with innovative marketing communications and activations. 'The cheese of your dreams' campaign does this and will ensure that sales of Pilgrims Choice will continue to grow as we drive excitement and fulfilment for flavour enthusiasts."

The cheddar brand's previous campaign, which first aired in 2015, saw Pilgrims Choice staff breaking into dance whenever someone picked up a packet.