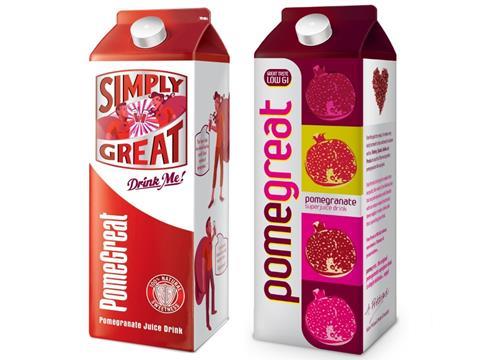 PomeGreat boss Adam Pritchard has admitted he got it "spectacularly" wrong after a revamp of the juice brand cost the business millions of pounds in lost sales.

CEO Pritchard has this month returned the brand to its "core values" with another packaging change, confessing a design rolled out a year ago had been disastrous. Superhero brand mascots had been added to packs to attract younger consumers, but alienated many of the brand's core 35+ demographic.

"I thought we would bring in a slightly younger generation," he said. "What we did spectacularly successfully was turn our premium adult soft drink brand into a children's brand overnight and we lost a whole heap of our consumers."

PomeGreat launched in 2000 and secured listings in major supermarket chains where it built a "loyal, middle-aged customer base". But, over the 10 months following last year's revamp, retail sales of the brand halved from about £8m to £4m, admitted Pitchard, and PomeGreat was delisted by The Co-op Group.

PomeGreat has now been overhauled and taken back to its "core values" with a "timeless, punchy design reflecting taste, refreshment and health", Pritchard said.

Sales of the rebranded chilled PomeGreat, which rolled out in Sainsbury's, Asda and Waitrose last week, have already jumped by 50%, claimed Pritchard.

"I hope this brief foray into the world of caped crusaders hasn't put people off trying PomeGreat," he added.

An ambient range is set to go on sale next month.