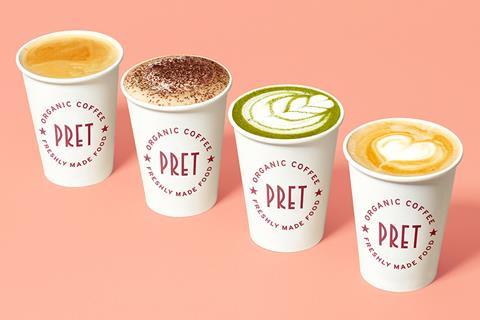 Pret a Manger is launching an 'all you can drink' coffee subscription.
'YourPret Barista' will allow customers to have up to five barista-prepared drinks a day for £20 a month.
The scheme will be available from 8 September and will include the chain's coffee, teas, hot chocolates, frappes and smoothies.
It marks the first part of the struggling sandwich chain's transformation strategy as it tries to entice customers back into stores.
The deal is understood to be the first of its kind and could spark a price war as coffee chains jostle for customers.
An introductory offer will see the first month free – it will then auto-renew with no minimum term contract, allowing customers to unsubscribe at any time.
The move follows last week's announcement Pret is laying off a third of its workforce after the coronavirus crisis had set back the business' progress by 10 years, with weekly sales now at £5m – matching that of August 2010.
Since the end of July, weekly sales have grown on average by around 7%,
"As people across the UK begin to get back to the things they've missed, our new subscription service is perfect for customers who have been craving one of our barista-prepared drinks. Whether you're a coffee enthusiast or tea devotee, we hope this new service helps you start your day strong," said Pret CEO Pano Christou.
"This is just the first step in our plan to bring Pret to more people. We now have the building blocks to establish Pret as a multichannel, digitally-led business, and YourPret Barista is the first big launch we're able to deliver through our new technology platform. Since reopening back in May, our coffee sales have been rising faster than food – evidence that coffee has become an integral part of both our customers' everyday routines and the Pret experience."