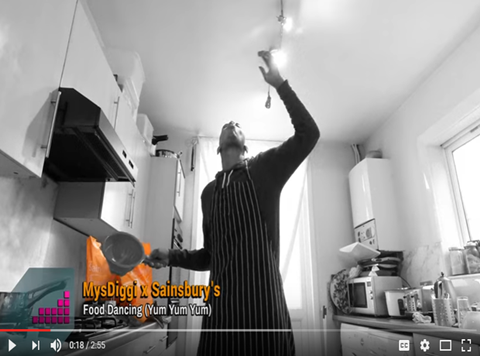 Black-and-white footage. Urban rap. Gangster-looking types with gold chains. No, it's not the latest Kanye West music video. It is, in fact, Sainsbury's latest ad campaign urging people to mix the mediums of food and music, aka 'food dancing'.
If it sounds a bit off the wall for a typically conservative high street grocer, that's because it is. Set to a track by rapper MysDiggi (who incidentally used to work at Sainsbury's), it all feels a bit "young and happening", as my dad would say.
According to advertising journal Advertising Age, the crew used GoPro and iPhone cameras alongside traditional filming equipment to give it "an authentic, reality TV-style edge". There is a #fooddancing Twitter hashtag to appeal to the youth of today, who are rumoured to love that social media malarkey. And to top it all off, the ad will make its debut on ITV2, the official channel of the trendy/oxygen-starved youngsters (delete as applicable) who consume such programmes as Ibiza Weekender and I'm a Celebrity.
This was all quite a deliberate move by ad agency Wieden+Kennedy, which has just taken over the Sainsbury's account from former stalwarts AMV BBDO. Scott Dungate, creative director at Wieden+Kennedy, says one of the aims of the campaign was to give Sainsbury's a "cooler" edge.
It marks quite a dramatic departure in tone. This was, after all, the supermarket whose idea of being daring was putting a bit of horseradish in beef stew in its Little Twists campaign. And rapping hipsters feel a far cry away from Mog the cat.
But the question is, does it work? The ad is so obviously aimed at young people, it may as well end with Mike Coupe donning a backwards baseball cap, breakdancing and proclaiming: "We're down with the kids, innit?" And that is precisely what makes it all feel a bit try-hard. As one Twitter user said, it's like "watching your Dad dancing at Glasto".
Of course, the campaign is somewhat tongue-in-cheek. The lines in the MysDiggi song – including 'I'm swaying my hips while I'm marinating my chicken' and 'I'm shaking my money-maker while cooking a vegetable curry' – are hardly a serious attempt at establishing street cred. As such, the ad doesn't really deserve some of the scathing abuse it has received on Twitter (and it has attracted a fair number of fans).
Wieden+Kennedy also has to be commended for creating something that genuinely does stand out from other supermarket ads. Aside from Christmas campaigns, the grocers' offerings have become a bit samey of late – and Lidl's latest strapline 'Big on Quality. Lidl for Less' arguably means Sainsbury's can't afford to focus too much on its similar 'Live well for less' slogan.
But is this really the right direction for Sainsbury's? Its primary market is made up of fairly affluent, high-achieving types who are more likely to be searching for a prime cut of beef for tonight's dinner party than tweeting about #fooddancing while watching drunken antics on ITV2.
Then again, I may be wrong. Perhaps for the next phase of the campaign, Mike Coupe should make a cameo on Ibiza Weekender?