They say there's no such thing as bad publicity. For reasons both good and bad, these brands made headlines with some particularly bold PR stunts this year. Here's our pick of the most effective ones from 2021
1. Weetabix adds Beanz
Why should bread have all the fun, when there's Weetabix? Serving up @HeinzUK Beanz on bix for breakfast with a twist. #ItHasToBeHeinz#HaveYouHadYourWeetabixpic.twitter.com/R0xq4Plbd0

— Weetabix (@weetabix) February 9, 2021
Disgust. Horror. Delight. Disbelief. Never before has one dish elicited such a vast array of reactions. It came when Weetabix slathered Heinz Beanz on its dry biscuits in February as part of a promotional push encouraging shoppers to find new ways to enjoy the breakfast classic. Weetabix's tweet went viral, searing itself into the minds of millions and racking up headlines. Entire podcast episodes examined the meaning behind the stunt.
Other brands were quick to cotton on. Nando's checked in: "u ok hun?", while Tesco slammed it as an "illegal combination in the bagging area".
Put simply, it was a masterclass in modern social media marketing, and led to a major boost in sales for Weetabix, which grew 15% in Sainsbury's alone. The retailer even went so far as to merchandise the odd couple together in an attempt to cash in.
Putting aside the question of whether the combination of Beanz & Bix is a culinary revolution or a crime against humanity aside, it crucially gave Brits something to laugh at when we were suffering through the brutal winter lockdown.
2. Oggs Instagram stunt
View this post on Instagram
Thirst trapping isn't a behaviour we tend to associate with fmcg brands. But this year Oggs schooled competitors in the art of seducing retailers, with a cheeky Instagram post levelled at Tesco.
In May, its social media team superimposed Oggs and Tesco logos on to a photograph of Beyonce and Jay-Z, adding the text, "This could be us", and posting it to the site. In the caption, the brand claimed Tesco was "playing hard to get" and asked its fans, or "Oggers", to help it get the supermarket's attention. "If you want to see our cakes in Tesco's stores across the UK, tag them in the comments below," it said.
After hundreds of shoppers appealed to Tesco, the retailer approached the brand and ultimately agreed to list a duo of its Bites – in Millionaire and Brownie flavours.
While the bold move has since inspired a wave of copycat stunts from challenger brands hoping to pull new listings, none have had quite the same impact.
3. Tony's Chocolonely Advent calendar
Happy day 8 Choco Fans! Noticed something different in your calendar today? Yep, it's empty.. And why? 'Cos at Tony's we use our products to tell the story of the choco industry – an industry unequally divided and choc-full of inequality. Read on..🧵#chocolate#impactpic.twitter.com/e9ARAmVLZy

— Tony's Chocolonely UK & IRE (@TonysChocoUK_IE) December 8, 2021
Tony's Chocolonely made headlines earlier this month after parents complained that its empty Advent calendar window had left their children "upset" and "in floods of tears".
The confectionery brand explained that its 8 December window contained no chocolate "to represent inequality in the chocolate industry". To push the message further – and make up for the missing treat – the very next window (9 December) contained two 'tiny Tony's', rather than one. But despite its best efforts to appease disappointed children, complaints from outraged parents flooded in.
In the end, Tony's Chocolonely issued an apology for the move – which, by consequence of its criticism, drew maximum publicity to its anti-slavery message. One Twitter user went as far as calling the stunt "genius".
4. Camden's beer 'recall' promo
A super important update - Fresh taste is still under threat!
If you find this pasteurised can in your 4-pack, please call the recall team on 0333 335 5959 and you'll get a YEAR'S SUPPLY OF FRESH-TASTING, NEVER PASTEURISED, HELLS.
Full T&C's: https://t.co/k973Vqt2lkpic.twitter.com/1FiLK1gyI1

— Camden Town Brewery (@CamdenBrewery) May 28, 2021
Product recalls are usually bad news for brands, but Camden Town Brewery this year issued "the world's first" positive one as a stunt to educate consumers about its brewing process.
It offered consumers who managed to find one of 50 "inferior" pasteurised beers – which were covered in warning stickers and designed to "look just as terrible" as they tasted – compensation in the form of a year's supply of Hells Lager.
The brewer launched a national TV ad to support the promotion, depicting a press conference held by an illustrated Camden employee and voiced by comedian Lolly Adefope. It ran for four weeks to "educate beer lovers that pasteurising beer is the biggest mistake Camden could ever make".
The unique stunt helped grow national awareness and trial of Hells Lager, said head of marketing Zoe Wulfsohn-Dunkley, giving sales a welcome boost.
5. Trip World Kindness Day billboards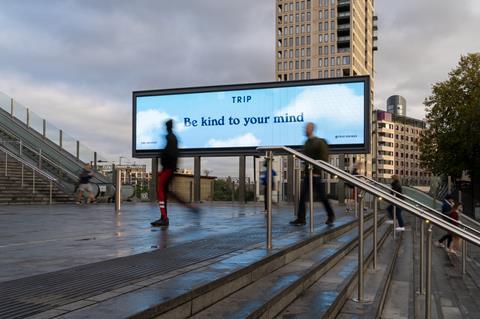 The pandemic brought the importance of mental health into sharp focus. But while many suppliers tiptoed around the topic, CBD brand Trip responded with a bold billboard campaign, titled 'Be Kind to Your Mind'.
Ahead of World Kindness Day (13 November), the brand splashed "positive affirmations" across more than 1,000 UK billboards, focusing on "busy travel locations", including Leicester Square, Westfield shopping centre, Shoreditch and Notting Hill high streets.
Trip founder Olivia Ferdi said she hoped the impactful campaign – which was projected to reach millions of passers-by – would "open up conversations" around mental health.
6. Iceland emergency turkeys
Psst.. @Asda… Wanna see something EXTRA Extra Special?
Check this out, it's 450,000 delivery slots that can be booked from now until Christmas!https://t.co/sxFOlbReyCpic.twitter.com/vjSdSPa681

— Iceland Foods ❄️ (@IcelandFoods) December 13, 2021
Nothing whips the British public up into a frenzy quite so much as a threat to Christmas. But after Iceland found that shoppers were frustrated with other supermarkets making Christmas slots available early – with 84% believing it encouraged panic-buying – it decided to poke fun at the situation while promoting its 450,000 newly available Christmas delivery slots.
The retailer sneakily installed 'emergency turkeys' outside Tesco, Asda, and Morrisons this month in boxes with a glass front, to be broken "in case of emergency". "Or just book your Christmas delivery at Iceland.co.uk," said the message on the glass.
"With our help, there should be no need for an emergency turkey dash this year," said Iceland head of delivered sales Jen Bartle. Shots fired.
7. This sponsoring 'Quorn', the town
Quorn currently dominates the meat-free category, but one cheeky challenger is hoping to change that. Earlier this month, plant-based meat alternative brand This has made a play against the market leader, by sponsoring the Leicestershire town that shares its name.
The stunt has seen This take over Quorn's local bingo hall, chip shop and pub. It has even ventured into football sponsorship, supplying Quorn AFC with kits sporting the slogan: 'we love This', along with branded water bottles.
It could all be an elaborate (and expensive) prank – or, more likely, a canny marketing strategy to raise awareness of the brand and drive sales ahead of Veganuary 2022.