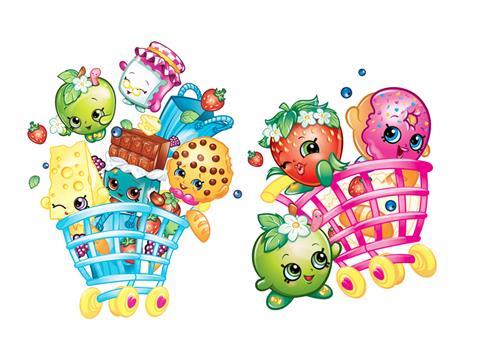 Collectibles craze Shopkins will be ramping up its presence in stores with the launch of branded food lines.

Lightbody Ventures, Kinnerton and Finsbury Food Group will next year be rolling out licensed products featuring the range of grocery-themed collectible characters that have become a hit with young girls. Shopkins made its UK debut in summer 2014 and has grown to become the fifth-largest toy brand in the grocery channel [NPD]. Shopkins is produced by Australian company Moose Toys, and represented in the UK by Bulldog Licensing.

"The received wisdom is that collectible brands work for boys but not girls; this has shown that they do work for girls when the brand is right," said Bulldog MD Rob Corney. "Shopkins has the brand attributes we look for - scalability and characterisation."

He added Shopkins had great synergy for grocers as the characters were based on products from the supermarket aisle such as fruit, cookies and popcorn. The brand was proving particularly strong in clothing, said Corney, with Asda carrying a wide selection of products and Tesco launching a range of blind-packed socks in the past few weeks.

Lightbody Ventures is set to roll out Shopkins lines including iced biscuits from March next year, and hopes for the sort of success its has enjoyed from its Minions products.

"Minions has been a game-changer for us," said Lightbody commercial controller John Steele, "and Shopkins is so hot right now."

Finsbury Food Group will be launching Shopkins celebration cakes, while Kinnerton is rolling out a range of Easter Eggs for 2016.