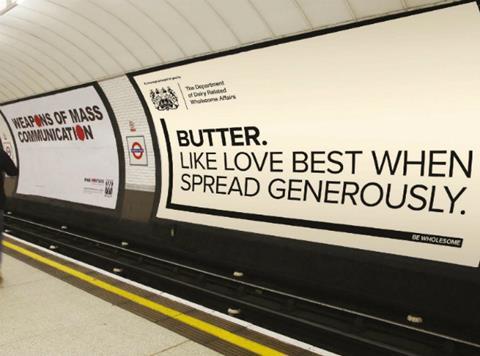 The dairy sector has launched a major new generic marketing campaign to re-engage with millennials in a "fun and disruptive" way.
The £1.2m 12-month campaign, run by the industry-wide Dairy Market Development Forum and funded by Dairy UK and the AHDB, launched today (9 November), and is the largest generic marketing push by the sector since the EU and processor-funded Make Mine Milk campaign ended in 2013.
It will centre on a spoof Department of Dairy Related Wholesome Affairs, with a series of public service announcements-type ads set to run across digital and outdoor, carrying messages such as 'Fuel Your Morning with Something Heart-Warming', and 'Netflix and Ch..eese on Crackers'.
Research by the forum found the dairy sector was "losing our millennials, who were not connecting", said Dairy UK CEO Judith Bryans. "We were a silent category for them, with other products almost taking over the values of the dairy. Our credentials were just not resonating with younger generations, and that was an issue."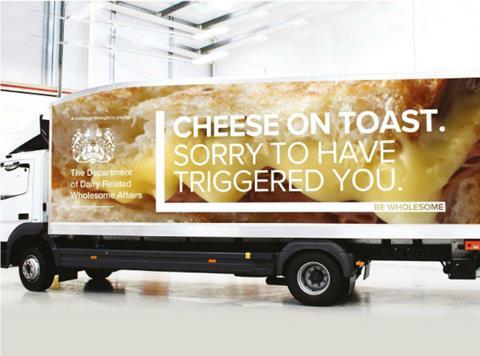 As a result, the industry decided to focus on "acting as a leader and connecting with consumers on an emotional level" she added. "We wanted to move away from the types of campaign we have run in the past, using hard facts, which hasn't worked."
It comes amid growing criticism from the vegan lobby, particularly on social media, which would be a key platform, Bryans said. "We realised we were not going to reach these people on TV, and instead decided to be where they are on social media and out of home."
The dairy forum has also mocked up a series of in-store ads, and hoped retailers would adopt the campaign in the new year, she added. "Retailers have been asking for this type of campaign for a long time. This is about creating brand dairy."