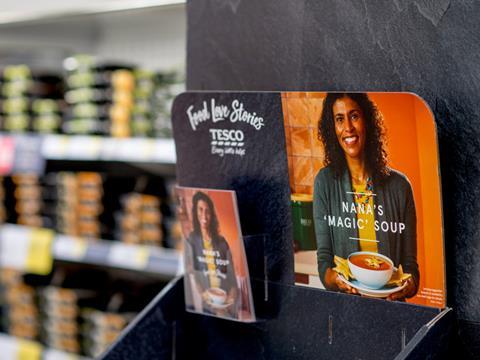 Tesco has driven its turnaround in performance with the help of a huge increase in advertising spend over the past year, research reveals.

Figures compiled for The Grocer by Ebiquity found that Tesco upped its ad spend in traditional channels - such as TV, radio and print - by 68% to £73.9m in 2017.

The figures also show that Tesco accounted for 4.1% of the total retail ad spend over the year.

In contrast to Tesco, Asda's spend rose by just 0.5%, while Sainsbury's and Morrisons' budgets decreased by 13% and 11% respectively.

Despite almost spending as much as Tesco at £70.5m, Lidl's budget was up just 0.1%. Fellow discounter Aldi slashed its spend by a quarter (24.9%) to £48.8m.

Tesco upped its budget more than any other food & drink advertiser, including biggest spender McDonald's, which spent just shy of £88m this year, but only upped its budget by 10%.

The period coincides with the appointment in January 2017 of former Unilever marketing specialist Alessandra Bellini as chief customer officer. At the time, CEO Dave Lewis denied Tesco lacked "blockbuster" marketing. However, he identified creating a strong brand as one of his key aims.

"I'm delighted that Alessandra is joining the team," said Lewis at the time. "Her experience in building brands will be a valuable asset in the next stage of building a truly differentiated Tesco brand."

January 2017 was also when Tesco launched its ongoing Food Love Stories campaign, which focuses on characters making dishes for specific reasons. The campaign uses multimedia including TV, in-store recipe cards and ingredients showcased nearby in larger stores, followed by customers sharing their attempts on social media.

Tesco's dramatic shift in spend came from a need to change, according to Peter Reid, CEO of marketing agency MSQ Partners. "People had fallen a bit out of love with it, some stores and products had lost sparkle, and 'Every little helps' had run its course. Reaching people en masse costs, and Tesco needed to get on the front foot and needed an emotionally led broad-based awareness campaign that repositioned the brand in consumer's minds."

In the latest grocery market share figures, released by Kantar Worldpanel this week, Tesco's sales were up 2.4% for the 12 weeks to 25 March.