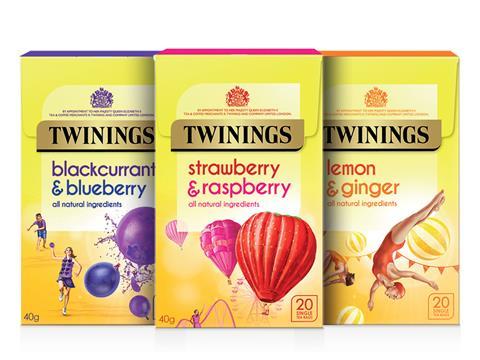 Twinings has invested almost £17m in its range of fruit and green teas as it attempts to recoup losses from the declining black tea category and a slew of delistings in Asda.

November will see the rollout of new-look packaging for the brand's fruit, herbal and green variants - the result of a £100,000 R&D spend and a £10m capital investment in production equipment.

New 'consumer friendly' vertical boxes feature a flip top and smaller bags packed individually in a foil inner bag. A 'colour-blocking' approach sees all fruit and herb flavours in bright yellow packs, in a change from the present white, while blend-specific illustrations aim to add to the 'sunny' and 'uplifting' design. Green teas also appear in the upright boxes but retain their green appearance.

A £6.6m campaign for the revamped teas will kick off out of home in January, followed a month later by TV, digital, PoS and sampling activity. The push will see Twinings reposition its infusions as sugar-free alternatives to everyday fizzy drinks and fruit juices, as the brand aims to shake off the category's 'remedial' image and grow its consumer base by attracting 'wellbeing aspirants' - consumers who want healthier options that are 'enjoyable' and 'easy'.

"There is opportunity for massive scaleable change in the category," said Twinings head of brand Vicky Keenan. "Twinings spearheaded the revolution in infusions, and now we want our packaging to reflect our commitment to the wellbeing promoted by our tea.".

News of the brand's multimillion spend comes after Tetley Tea owner Tata Global Beverages GB posted a headline loss of £863,000 in the year to 31 March 2016 and warned of the twin pressures of rising commodity costs and a "structural decline" in the UK's love of black tea.

Twinings would not comment on the commodity price rises affecting the category but it acknowledged standard tea's long-term decline as consumers have turned to other beverages. The brand - the UK's second biggest name in tea behind Tetley - has seen its value sales dip by 1.1% to £108.1m on volumes down 12%, after losing 18 SKUs as part of Asda's Project Renewal [IRI 52 w/e 18 June 2016].