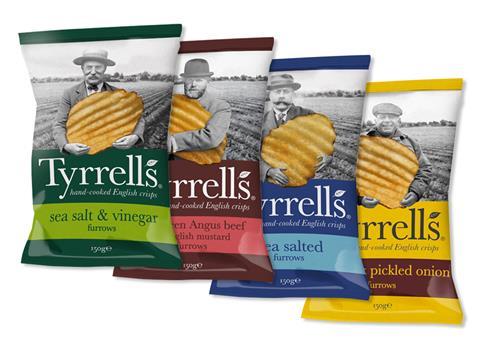 Hand-cooked crisps brand Tyrrells has given its 'rugged' Furrows lineup a makeover and added a new variant to focus on male snackers.
A redesign celebrating 'men of the land' sees the Herefordshire brand again making use of early 20th century black and white photographs. This time, each portrays a hat-wearing man digitally manipulated to look as if he is standing in a field holding an enormous ridged potato crisp.
Available now, the new look aims to appeal to Furrows' largely male fan base and play on Tyrrells' "heartland of provenance and locally sourced potatoes" said the brand – which has added Aberdeen Angus Beef & English Mustard to the now four-strong range.
Furrows was a unique part of the Tyrrells portfolio, said the premium snack brand's marketing manager Sarah Lawson. "The thick-cut ridges offer an extra crunch and a stronger hit of flavour. Although they are popular across both genders, research has shown our main consumers are men."