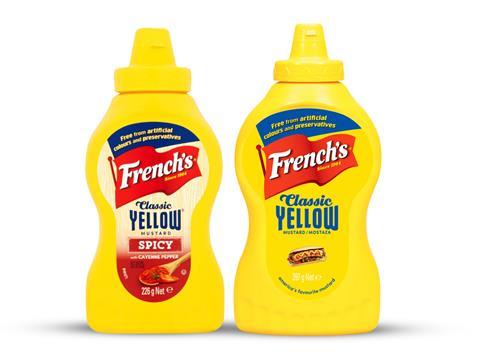 Frank's Redhot and French's owner McCormick has pledged to realise the "full potential" of the US condiment brands in the "key" UK market, after their core lines suffered major sales slumps.
Acquired in July by McCormick as part of its purchase of Reckitt Benckiser's food division for $4.2bn (£3.2bn), Frank's Redhot Original and French's Classic Yellow Mustard have lost 18% and 20.8% of their value respectively [Nielsen 52 w/e 9 September 2017].
The supplier said sales of the table sauces had been adversely affected by UK store supply, "which had been challenged for some time, before the acquisition by McCormick, due to service issues". The problems had now been resolved and "most of the UK stores are now back to the high levels of service that can be expected from McCormick", said a spokeswoman for the company.
Frank's Redhot sauce and French's mustard were "iconic flavour brands with leading market share positions", according to their owner. Having completed the integration of the RB food business into its EMEA operation, McCormick wanted "grow the brands' presence across the UK grocery" the spokeswoman said.
"The UK is a key growth market for French's and Frank's Redhot, which are already well established across the UK retailers. We intend to invest in the brands, drive penetration, build distribution and usage and ensure they reach their full potential in the UK market."
To do so, McCormick, owner of the Schwartz herbs and spices portfolio, would take advantage of "the growing trend toward spicy, healthy flavourful eating with natural ingredients".
The company's plan was "to drive growth by building French's and Frank's RedHot into global brands leveraging our global footprint in both retail and foodservice, as well as through continued base business growth and innovation".