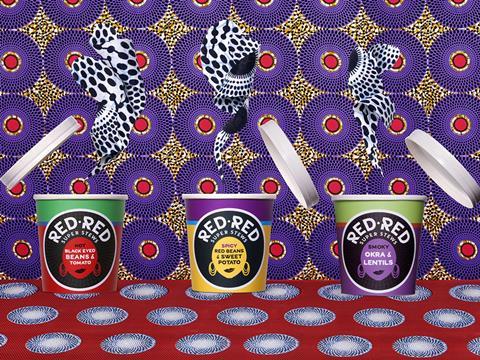 Unilever is preparing for a major distribution push of Red Red, its Africa-inspired instant stew pots unveiled this year in support of Farm Africa.

The range will roll out nationwide "over the coming months" said the supplier, which launched the vegan Red Red meals in January via Whole Foods Market. They were then expanded in July to Sainsbury's food-to-go segment, backed by in-store and OOH marketing, influencer partnerships and targeted sampling campaigns.

Packed in pots bearing hand-drawn typography and bright colours, Red Red was created to "celebrate the vibrancy of African culture through food, art, fashion and more" Unilever said.

Its three just-add-water variants - Smoky Okra & Lentils, Spicy Red Beans & Sweet Potato, and Hot Black Eyed Beans & Tomato (rsp: £2.99/53g-70g) - were developed with Zoe Adjonyoh, founder of London restaurant Zoe's Ghana Kitchen. Each is gluten-free and contains no more than 253 calories per pot - a maximum of 361kcals per 100g.

Tapping the trends for plant-based, world flavours and convenience, the ambient trio sits alongside the likes of Prep Co, Unilever's healthier pot meal range unveiled in April in four vegetarian options. However, Red Red's closest rivals in grocery are, arguably, microwaveable brands such as Soulful and Easy Bean brands - both chilled.

"We wanted to combine the vibrant street-style flavours of Africa with the convenience of a pot snack that can be eaten on the go" said Bogdana Ghinescu, foods incubator director at Unilever. "Red Red's super-stews encapsulate the energy, diversity and creativity of Africa."

As part of Red Red's aim to be "a brand that gives back", 12p from each pot sold is donated to Farm Africa to help support small-scale farmers across eastern Africa increase yields and incomes, while also protecting their local environment.

"Consumers want to buy sustainably, with a third now buying brands based on their social and environmental impact," Ghinescu added.