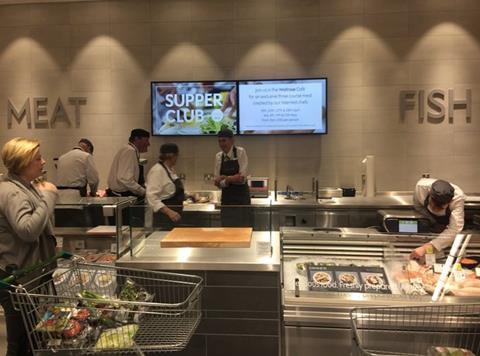 Waitrose has launched a supper club at its newly opened Haywards Heath store with a view to a wider rollout.

The retailer will offer three-course meals for £35 in the store's mezzanine-level café on eight dates over the next two months.

Waitrose chefs from its three cookery schools will prepare the menu, which has a choice of two starters, three mains and one dessert. Dishes include a brown shrimp cocktail with wheaten bread, salmon with brown butter, Tenderstem broccoli and Jersey Royals and a chocolate pavé with salt caramel popcorn and buttermilk ice cream.

The food will be served alongside a "perfect selection of drinks and nibbles", according to the Waitrose site, and there will be capacity for 50 people.

The event is promoted heavily in its Haywards Heath store, which opened on 30 March with features including a sushi concession and wine bar, and can be booked online.

"This aims to deliver the next level of in-store dining at Waitrose, building upon concepts like our sushi bars and wine bars. We want to make our stores a food destination in the evenings as well as in the day," said Karen Himsworth, manager of the Waitrose cookery schools. "We realise a supermarket might not spring to mind when people are thinking about dining out in the evening, but we want that to change. Our aim is to create an atmosphere that is inviting whether you are having a meal for two or out with a group of friends.

"We will look at next steps after we have finished the initial eight dates, but our aspiration is for this to continue at Haywards Heath and to explore how we might introduce it at other branches across the estate," she added.

The £35 in-store supper club was trialled for "short periods" in Waitrose's Newbury and Salisbury stores last year.

Waitrose ran an alternative format supper club at its Finchley Road cookery school in October at £85 per head, but Waitrose stressed this was "very different" to its Haywards Heath offering with five courses and interactive elements. The retailer is reviewing the price of this event with a view to rolling out another later this year.