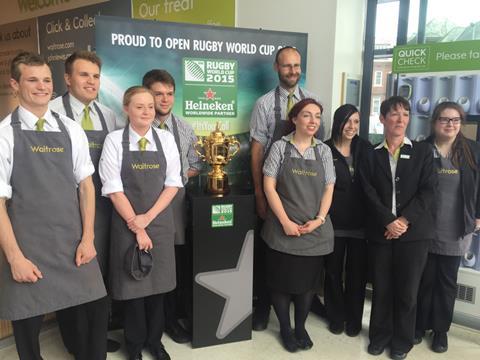 OK, it's not as good as football, but rugby has a rich history, plenty of fans and is becoming more popular every year. More than four billion viewers are expected to watch the eighth Rugby World Cup on TV, and it's now the third-biggest sporting event in the world, behind the Olympics and the FIFA World Cup.

The kick off is on 18 September, and England is hosting for the first time. That means rugby-loving tourists flooding in with money to spend, and domestic fans filling their houses with food and drink to party. Ernst & Young estimates some 466,000 visitors will descend upon England during the tournament, which runs till 31 October, and each will spend between £59 and £3,546 which will "contribute up to £869m in direct expenditure".

Plenty of that will go on food and drink. In the stadiums themselves, Ernst & Young say fans will spend £32m eating and drinking. Throw in the hordes of rugby fans in the UK, who will either be in the pub, having parties at home, or settling down on the sofa with a ready meal and a six-pack, and it is a potential boom time for food and drink, especially if UK teams make it to the final. So who is doing what to take advantage?

Alcohol

Rugby fans have always been known to enjoy a drink. And chances are a fair few will be drinking Heineken, one of only six worldwide partners of the RWC and the only fmcg brand.

Heineken has had a long association with rugby but this is its first world cup as a headline sponsor, says Craig Clarkson, Heineken's trade and category marketing director.

As a top tier sponsor Heineken will be "much more collaborative" with the tournament. Heineken will be the only lager on sale in stadia, alongside fellow Heineken brands Bulmers, Murphy's and John Smith's. But as lucrative as this opportunity looks during games (unlike football matches, fans will be able to drink during the game itself), the real opportunity is in the home.

Clarkson says 92% of fans will be watching on the sofa, and every England game is on a Saturday night, as are the quarters, the semis and the final.

"We couldn't have asked for better timings," he says. "It's perfect. One of our c-stores said The X Factor is the new Christmas, but for those six weeks rugby is going to be the new X Factor."

Heineken started its activity with 100 days to go, when the trophy arrived in the UK. Since then it's been "snaking its way down the UK" and stopping for Heineken-branded events at c-stores and grocery stores.

"When we first started talking to retailers none of them were sure if they were going to make a big feature of it," says Clarkson. "But as we get closer you can feel a buzz building. I know the tournament hasn't started yet but the initial reaction and commitment from retailers has been really good."

Heineken is working with 10,000 indies and each major multiple is planning to put in bespoke PoS in the build-up. And Clarkson says Heineken has released "over one million" branded bottles on to the market, proof he says it's "pretty confident there will be some decent uplifts".

As for champagne and spirits, independent distiller William Grant & Sons will have exclusive pouring rights inside stadia for its brands, including Grant's, Piper-Heidsieck, Glenfiddich and Hendrick's.

But it's not just about the booze. In its role as official soft drinks provider of the RWC, Coca-Cola is giving away a million branded rugby balls via on-pack promotions to "inspire people to be active and try out the game" as well as launching pop-up games in parks and streets in the 11 host cities.

On a similar note Lucozade Sport is giving away a rugby shirt every 80 minutes (how long a match lasts for) for 90 days. However, Coca-Cola's Powerade brand is the official sports drink of Rugby World Cup 2015, while Glaceau Smartwater is the official water supplier of Rugby World Cup 2015. Coca-Cola plans to give the relatively nascent water brand a boost by launching RWC themed bottles as part of a wide-ranging marketing #RugbyDistilled campaign.

Food

On the food side official sponsorship has been eschewed in favour of more general references to the sport. Kerry Foods has launched rugby-themed flavours of Richmond sausages plus a Scrum'my Chargrilled Chicken variety of Fridge Raiders to capitalise on what group strategic marketing director Sue McVie calls a "huge opportunity to generate incremental sales".

Last year Kerry launched a similar Fridge Raiders product with a football theme and she says it "became our third top-performing product in the range and generated a 300% sales uplift while in store. We know limited-edition flavours during sporting events have performed phenomenally well in the past so we have great expectations for our rugby-inspired flavours."

Square Pie has teamed up with former England skipper Lawrence Dallaglio to promote its pies during the RWC. Its mini pies will also be served during and after games at Twickenham, and it's also launching branded steak and ale pies in Tesco and Ocado "four days before the tournament and in Co-ops from the end of September," says Martin Dewey, founder of Square Pie, who says 10p from every pie will be donated to the Lawrence Dallaglio Foundation. "What's better than pie, a pint and the rugby? We are hoping for a sales uplift of up to 30%. It will be interesting to see how awareness kicks off as it gets closer. I think it could be very big."

In short, a lot of activity is planned by brands and retailers to drum up excitement in the Rugby World Cup. And like all the fans, they'll be hoping the UK teams stay in the tournament for a few weeks so they can make the most of it. What price a victory for one of the Home Nations?