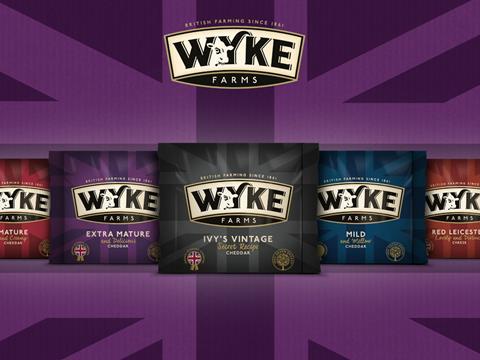 Wyke Farms is hoping to quadruple overseas cheese sales over the next 12 months with a revamped range playing on its British provenance.

The Somerset dairy company will unveil redesigned packaging across its entire export range at the Anuga trade fair in Cologne on Monday (12 October), with the aim of communicating its "British premium luxury offering, globally".

The new packaging consists of thicker film wrapping for a more premium positioning, while its '100% Green' logo has moved to a more prominent position front of pack. Meanwhile, Daisy the Wyke Farms cow keeps pride of place centrally within a refined logo.

The packs will also carry an 'award winning cheese' icon to help communicate the brand's quality credentials, and will use darker colours to give packs a stronger shelf presence, said MD Rich Clothier.

With Wyke Farms now sold in more than 160 countries worldwide, he added the time was right to play on an ever-growing support for British food.

"I am confident we can achieve a four-fold increase simply by conveying our British credentials more clearly on pack; such is the strength of the associations of quality and premium attached to British produce," Clothier said.

"In all of the key growth regions such as China, India and Japan, British products are instantly recognised as being of the highest quality and are therefore sought after."

The launch of the new export packs follows the announcement of a £1.6m revamp of Wyke Farms' UK cheese range last week, featuring the new logo, thicker and darker packaging, and an improved resealable zip to allow for easier opening.
Clothier said he was also targeting a four-fold sales increase for the domestic range, which will be supported by a consumer press advertising push running until the end of this year, alongside social media activity.