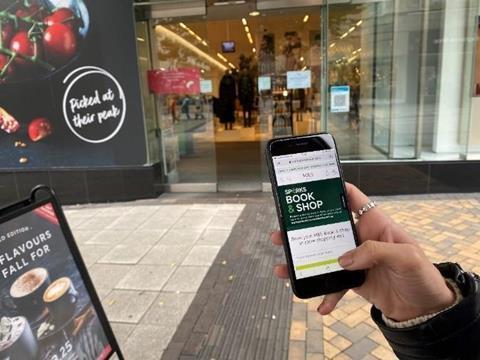 M&S is extending use of its reserved shopping slot scheme to help eradicate the need for outside queues and maintain social distancing amid continued lockdown measures.
Its Sparks Book & Shop app was initially planned to come to an end just after Christmas. M&S now intends to keep the scheme in place until at least the beginning of February.
The service allows Sparks loyalty cardholders to reserve a 30-minute arrival time, via the M&S website, to do their shopping.
The upmarket retailer is allowing up to two customers per household to book a slot. Upon arrival at branches, shoppers are required to check in with hosts at the entrance before entering.
Sparks Book & Shop is designed to better manage customer flow and numbers coming into its stores, as well as eliminate the need to queue outside. M&S will continue limiting the number of customers coming into its stores to ensure social distancing can be adhered to.
The scheme is available at all 566 standalone Food Halls and branches containing a Food Hall following a "successful" trial at 80 branches across England and Wales.
Over half a million bookings have been made via Sparks Book & Shop since its introduction and more than 30,000 slots have been reserved so far this month.
The extension also follows the retailer launching an on-the-spot payment service at over 200 stores to help reduce queues inside branches over the Christmas period.
"We know customers remain concerned about queueing, especially with our winter weather, so in response, we're continuing with Sparks Book & Shop, which was popular over Christmas," said Helen Milford, stores director at M&S.
"The quick, digital solution designed by our in-house tech teams helps Sparks customers guarantee a slot at a time that suits them and removes the need to queue should there be one. We hope this is a small way we can help make things a little easier for our customers as we continue to focus on helping them shop with confidence."