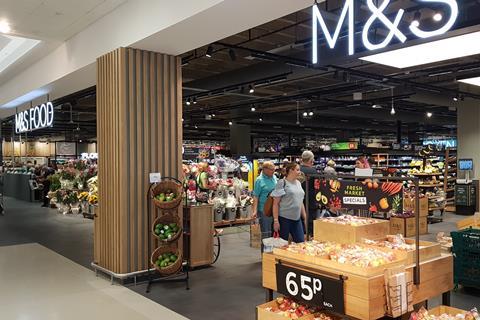 M&S is among retailers "lobbying hard" for Sunday trading restrictions to be relaxed, the business' CEO said today.
Talking as he delivered M&S's half-year results, Steve Rowe said it would give people more time to shop for food safely in the run-up to Christmas.
He said M&S had already decided to extend hours on other days in England's second national lockdown, which starts tomorrow.
"In addition to that we are lobbying quite hard with the rest of the industry for the extension and deregulation of Sunday hours, particularly as we get close to Christmas," he said. "Again, that's really to make sure that both colleagues and customers can enjoy a pleasant and safe environment."
The Grocer revealed yesterday that supermarket bosses had once again called for Sunday trading restrictions to be relaxed in fresh talks with the government. The rules currently limit stores over 3,000 sq ft to six hours between 10am and 6pm. Ministers have been weighing up the impact of relaxing them since March, ahead of the initial lockdown.
Rowe said he wanted Sunday to become a "normal trading day".
He said customers were starting Christmas shopping earlier this year "and the extension of operating hours is as much to make sure they can access the offer without some of the queues we saw earlier in the year".
But on Sunday trading, he added that deregulation was "really important through December and beyond in my opinion".
Rowe also said that, while standalone M&S clothing and home stores would close in the new lockdown, those that also sold food would "broadly remain fully open".
However, there appeared to be some confusion over the issue when an M&S spokeswoman later clarified that only clothing "adjacent" to food would remain on sale.
As reported by The Grocer, the government yesterday told supermarkets England's new lockdown would involve restrictions on the sale of non-essential products offered in separate areas of stores to essential ranges.
The M&S spokeswoman said the retailer was still going through the guidance, but the approach was likely to be similar to that taken in the first lockdown, with popular clothing products such as underwear moved to areas adjacent to Food Halls. Non-food floors would close, along with cafés.
M&S revealed a pre-tax loss of £87.6m in its first-half results to 26 September. Total group sales dropped 15.8% back to £4.1bn as clothing and general merchandise plunged by more than 40% due the coronavirus outbreak and lockdowns.
However, the food business had performed strongly despite "substantial Covid headwinds", achieving 2.7% like-for-like growth or 6.6% excluding hospitality, which was largely closed during lockdown.
M&S also said in its results that an 'MS2 step change' would see it prioritise online over bricks and mortar.
Chairman Archie Norman said MS2 meant "making us an online-led business with retail in support".
Rowe said: "We've been a store-focused model with online as a secondary channel. This flips that. It means we think about the ranges and promotions differently. It means we think about the end-to-end supply chain differently. It means we make sure we use media spend and advertising spend differently, in a much more digitally focused way."
He said clothing media spend would be more focused online this Christmas, with no TV campaign, adding: "I think, really, big campaigns, multi-million campaigns on TV – it's not the right time this year."
However, M&S is still expected to have a Christmas food ad.