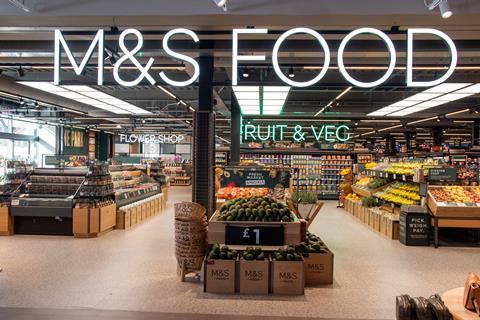 Marks & Spencer is set for its 'biggest ever' month of store openings, in an £80m investment in bricks & mortar retail.
The retailer will open nine stores throughout November – the most it ever has in a single month.
The nine will include six new stores along with the reopenings of the latest three to have received a makeover in M&S's store renewal programme.
The six brand-new stores include a 65,000 sq ft full-line one due to open tomorrow (7 November) in Birmingham's Bullring. The six also include a further two full-line stores, in Lakeside Thurrock and Manchester Trafford Centre. The other three new sites will be M&S Foodhalls.
The three additional reopenings of refurbished stores will take the number of branches to have received M&S's renewal treatment to near 100. The renewal programme sees stores made over to appeal more to families, with wider aisles and market-style Foodhalls.
M&S said the new stores would create over 2,200 jobs and support its ambition to become the UK's biggest omnichannel retailer.
In plans previously announced, M&S is also closing and relocating stores, in the aim of ending up with a smaller but better-performing estate. It wants to go from having 247 full-line stores to 180, while also opening over 100 "bigger, better" food sites.
At the start of 2023, the retailer said it was making a £500m investment in the store rotation programme and moved the target date for delivery forward by two years, to its 2025-27 financial year.
"Stores are key to our business, and we see them as part of our competitive advantage," said M&S operations director Sacha Berendji.
"Increasing numbers of customers are heading back into stores to experience the best of M&S all under one roof, supported by outstanding service from our colleagues, and we expect this to continue as we head into Christmas.
"To deliver our biggest-ever store opening month, which supports thousands of jobs, is an outstanding effort from the team and shows just how serious we are about accelerating our rotation plans so we are in the right locations for our customers."
Last month, M&S kicked off a search for 10,000 customer service assistants for stores over the Christmas trading period – 40% more than it sought a year earlier.