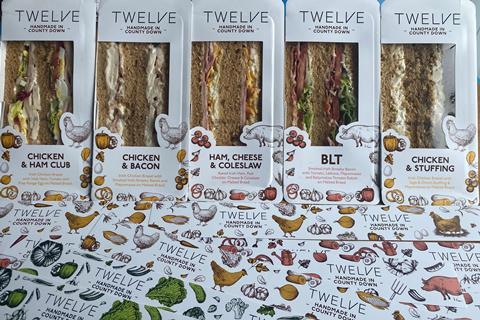 Marks & Spencer has partnered with a new sandwich supplier on the island of Ireland as it aims to mitigate the impact of Brexit on its supply chain in the region.
The retailer has recently started working with Newry-based Around Noon, which now supplies locally-produced sandwiches to its stores across Northern Ireland and the Republic of Ireland.
The new Around Noon deal will see M&S sell six new SKUs under the supplier's Twelve brand – including Chicken & Handmade Irish Stuffing, Chicken & Bacon on Irish Malted Bread, Baked Irish Ham & Cheddar, BLT with Ballymaloe Relish, Chicken & Ham Club, and a Chicken Caesar Wrap.
"We proposed to support M&S's current offering with products produced on the island of Ireland, made with Irish ingredients," said Around Noon's sales director Philip Morgan.
"We came up with a small range of products that ticked the provenance boxes, for example the bread and the chicken are produced on the island of Ireland.
"M&S have stores both in the north and south of Ireland and the ingredients come from both the north and south of Ireland as well.
"Our Twelve 'Handmade in County Down' range has had a very successful resonance with the M&S shopper."
M&S currently has 26 sandwich lines for sale in all its 38 stores across the island of Ireland, and it has plans to expand its Twelve range with Around Noon.
Morgan said the supplier faced some "challenges" when importing certain raw materials into the region, such as parmesan cheese, but that for this particular M&S tie-up it saw "no impact" on supply as the vast majority of ingredients were sourced from the island of Ireland.
M&S chairman Archie Norman recently criticised the EU for trying to impose "highly bureaucratic" and "onerous" checks on food being sent from Great Britain to Northern Ireland.
He said talks between the EU and the UK to potentially reform the Northern Ireland Protocol could result in "pointless" checks and further impact to supply chains.
Under the current agreement, there are no checks on goods moving to Northern Ireland because of temporary relaxations.
"At the moment, we're pretty much OK in Northern Ireland. It's costing more money, but it takes an hour to prepare the documentation to get into Northern Ireland and eight hours to get into Dublin," he told BBC Radio 4's Today last week.
"But the EU proposal is that we should have to do the same background checks to go into Northern Ireland. That means that every piece of butter in a sandwich has to have an EU vet certificate.
"So it's highly bureaucratic and pretty pointless. There is no risk to safety. There's no purpose to these checks."
Norman added that Brexit-driven bureaucratic processes have cost his company "about £30m".
Despite the concerns, the retailer has recently opened a new Food Hall in Banbridge, Northern Ireland – although local customers are not able to access the full food range due to the impact of the protocol on M&S's supply lines in the region.
The Grocer understands the company is ramping up its NI commercial operations as it gears up for potential changes to the current trade rules under the grace period.
In addition to sandwiches, M&S has increased its supply from the island of Ireland in other categories – for instance, its sausages and meatballs are manufactured there.
During the supermarket's FY results presentation on Wednesday, outgoing CEO Steve Rowe said more than 70% of its food business was manufactured in the UK with goods from the UK, and about 95% was made in the UK with goods from the UK and Europe.
"We are trying to shorten supply chains at every opportunity," he said.