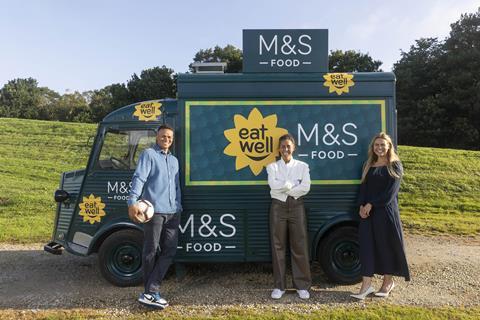 Only one in five UK adults feel they have a consistently healthy relationship with food, according to research commissioned by M&S Food.
Nearly as many (19%) admitted they lacked the confidence in their knowledge to make healthy and balanced food choices.
According to M&S Food's Eat Well, Play Well Report, a lack of knowledge has contributed to unstructured eating habits, with more than a quarter (26%) admitting they skip lunch. A fifth (22%) sad they skipped breakfast at least once a month.
A survey of 2,000 UK adults carried out by Opinium in July 2023 also found 20% said their household requested a takeaway at least once a week, and nearly two in five (38%) also requested other unhealthy foods in the same time period.
While the average person knew how to cook 14 meals at home, more than one in 20 (6%) said they never cooked at home.
More than one in four (27%) said it was too expensive to buy healthy food all the time and 15% said they found it difficult to get healthy food on their budgets.
The report, which forms part of M&S Food's 'Eat Well, Play Well' partnerships with the home nations' football associations, also highlights the gulf in healthy habits between the public and professional footballers, including interviews with current and former footballers and elite football nutritionists. The aim is to "level the playing field by using the power of football to create a healthier future for UK families".
M&S Food has pledged to undertake a series of steps to help families make healthier, more affordable nutrition.
They include promoting the government's Healthy Start Vouchers in stores, taking healthy messages and snacks directly to schools using the 'M&S Eat Well truck', and expanding the retailer's Eat Well food range, with the aim that 70% of sales will be from healthier products by 2025.
"Families face so many challenges today when it comes to making healthy choices – busy schedules, convenience foods, and conflicting information can make it difficult to prioritise nutrition," said Sophia Linn, M&S Eat Well nutritionist and co-author of the report.
"We recognise there is a need for everyone to have the knowledge to consume a nutrient-rich diet which helps us to thrive and perform at our best whether we are heading to school, to work or on the pitch. We're here to help families get the nutrients they need through our campaign, where we have hints and tips perfect for every day which includes food from our Eat Well range in store – making it easier to spot while out shopping. All you have to do is follow the flower on pack for healthier choices."
Football pundit Jermaine Jenas, a former England international, said: "When I was growing up, all I wanted to do was play football. I didn't want to sit at the dinner table and somehow I survived on four bowls of cereal a day in between playing football with my friends.
"But as my career progressed and as football nutrition became a focus, I quickly learned how eating well was the key to playing well. There's a real connection between plate and pitch. And it's not just about your performance in a match, it's about living a healthier and fulfilling life.
"The new report by M&S Food shows that people have the desire to eat healthier but not necessarily all the information or support to do so. Through the power of football, hopefully we can inspire the nation to make healthier choices, one meal at a time."