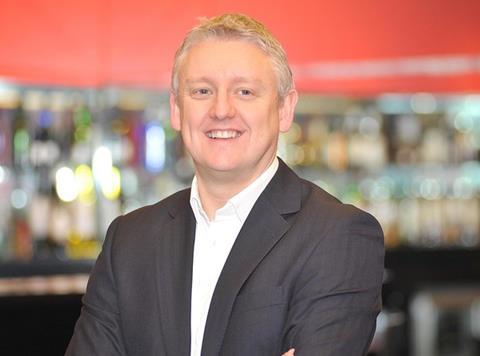 Maxxium UK has promoted sales director Mark Riley to the role of managing director.
Riley, who will take up the position on 1 April and replaces Huw Pennell, has been sales director for the spirits distribution company for three years, and before that was commercial operations director. He joined Maxxium in 2009 from Beam Suntory – which, along with Scotch whisky business Edrington, holds shares in Maxxium. Prior to that he spent ten years with Diageo.
"I am delighted to be taking the role at such a pivotal time," said Riley. "We have just strengthened our portfolio with the integration of the Beam Suntory brands which alongside our Edrington brands create an unrivalled whisky offering and broadened liqueurs and specialties range. This is an exciting time as we recruit consumers into whisky and help them discover the category. Our expertise in whiskies and mixology will be a key part of our growth strategy and I look forward to partnering with our customers in this new chapter at Maxxium."
Pennell said Riley would bring his "operational expertise, strategic thinking, energy and dynamism to the role".
"I am very proud to be leaving Maxxium UK in the hands of such a strong leader who will guide the business on the next stages of development," he added.
It was announced in January that Pennell would be moving to take up the newly created role of European Regional MD at Edrington. He has spent 16 years with Maxxium, and has been MD for the past 10. Announcing the new role in January, Edrington commercial director Scott McCroskie said it would "deliver a new level of focus on this large and complex region whilst creating a management structure consistent with the rest of the world".
"Huw's knowledge, experience and leadership style will be of great benefit to Edrington," he added. "We are excited to welcome him to the business and look forward to building on the success of our company."
Edrington's brands include The Famous Grouse, Highland Park and Cutty Sark, while Beam Suntory owns Jim Beam, Courvoisier and Maker's Mark.