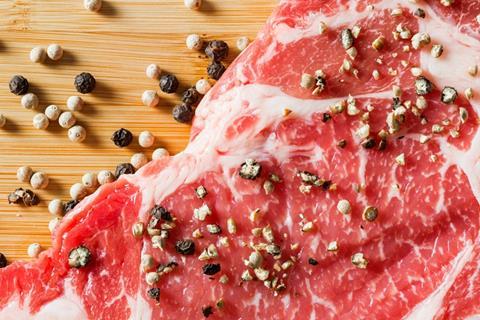 The price cuts are part of Asda's wider commitment to 'Low Prices Every Day' during May
Asda has unveiled a slew of price cuts across its steak range in a bid to support the UK beef sector.
The retailer said the cuts ensured it offered the "lowest-ever prices" across its steak range, while also allowing it to continue "to pass on the full value for farmers during this time of national crisis".
From this week, larger packs of rump steaks and sizzle steaks will be reduced by £1 from £4.50 to £5.50 and £5 to £4 respectively.
Asda has also cut the price of a Butcher's Selection 255g rump steak from £3.55 to £2.75; a 227g sirloin steak from £3.55 to £2.85; a 227g ribeye from £3.70 to £2.95; and a fillet steak from £30 to £26 per kg.
The price cuts are part of a wider commitment to 'Low Prices Every Day' during May by Asda, with more than a thousand essential items seeing a reduction in price for at least 26 weeks.
It comes amid a carcase balancing crisis across the beef sector, with a surge in demand for beef mince since the start of the coronavirus lockdown and a drop-off in sales of higher-value cuts leading to concerns over the long-term profitability of producers.
That surge in demand led Asda and Sainsbury's to source beef mince from Poland at the height of coronavirus panic buying in March – leading to criticism from farming unions.
Asda's move to discount steaks follows similar price cuts by Waitrose last week. Aldi has also increased the amount of British steak it sources, Morrisons has reopened its meat counters while a £1.2m national beef campaign by AHDB, Quality Meat Scotland and Hybu Cig Cymru has also been launched to encourage shoppers to explore different cuts.
"As the nation navigates these challenging times and our spending and cooking habits evolve and adapt, there has been a significant decrease in the number of people buying more premium cuts of meat, resulting in knock-on implications for farmers," Asda said.
A rise in batch-cooking, as people become more mindful of their spending, has seen demand for affordable cuts of meat such as beef mince increase by 50%.
This trend for cheaper cuts, along with the closure of the foodservice and hospitality sector, was leaving farmers with an abundance of steak and a shortage of cheaper meat, causing an imbalance in the value of their livestock.
Asda recognised buying habits were changing, said its senior buying manager for red meat Paul Geary.
"We want to make sure our steaks are available at an affordable price for people, whilst ensuring our farmers receive the support they need during the pandemic."