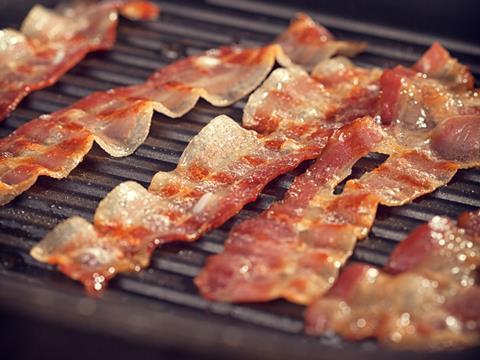 The Co-op is to cut the amount of nitrites used in its own label bacon range by 60%.
The retailer said the move to reduce the use of the chemical was the first of its kind by a major UK supermarket. It would have no impact on the quality of its bacon or the price paid by consumers, it stressed.
Working with its supplier Tulip, the Co-op will cut nitrite usage across 24 fresh, British bacon SKUs in 2020.
It has already started rolling out reduced nitrite bacon on 11 core lines this month, while a further 13 premium lines would be introduced later this year. The range includes back and streaky bacon, medallions and bacon chops, as well as lardons. Tulip said it had reduced the nitrite content in the brine solution it used to cure pork, without using another additive.
Nitrites are required for both preservation and to produce the typical flavour, taste and colour characteristics of bacon. However, its use has come under scrutiny in recent years.
A landmark WHO study in 2015 singled out the additive as a significant cause of cancer. It warned consuming 50g of bacon per day – the equivalent to two rashers – could raise the risk of contracting bowel cancer by 18%.
The Co-op's move follows the launch of a range of nitrite-free bacons by Northern Irish processor Finnebrogue, under its Naked Bacon brand, from 2018.
But removing nitrites completely "would not produce the quality of bacon customers are used to", suggested Tulip's customer director Zoe Bruce.
"Co-op will be the only major UK retailer to offer a lower nitrite range across its entire own brand bacon category, rather than selling a niche 'nitrite-free' product which is not accessible to all and sold at a much higher premium," she added.
The processor's formulation for the Co-op ensured the typical characteristics of bacon were still maintained, she stressed, with no impact on preservation, texture, appearance or taste.
"We've listened to what our shoppers want and followed guidance from leading experts in the industry to address the concerns around the amount of nitrites required to create cured meats," said Breige Donaghy, director of delicious food at the Co-op.
"By working closely with Tulip, we've been able to reduce the amount of nitrites without compromising preservation and still delivering a great-quality product."
It comes amid a slump in bacon sales across the mults on the back of health concerns and a reduction in promotions. Volumes were down 2.7% last year, with value sales down 4.7% to £1.2bn [Kantar 52 w/e 14 Jul 2019].