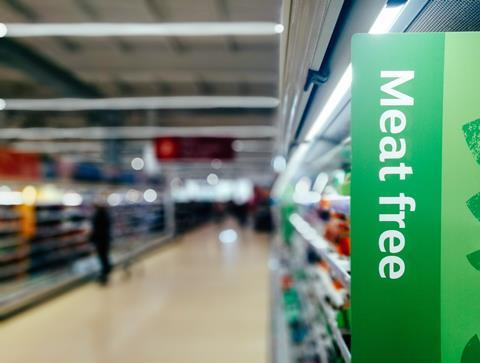 Shoppers are becoming increasingly confused by the cross-category merchandising of meat and meat alternatives in the same supermarket aisles, new research has suggested.
A consumer survey of 1,004 shoppers, followed by in-depth interviews – undertaken by AHDB with research firm The Smithfield Collective – found that 57% of those polled initially hadn't realised how many products were meat free.
A further 52% said having meat and meat-free products mixed together was potentially confusing, revealed the study, undertaken towards the end of last year.
A whopping 69% agreed meat alternatives tried "to describe themselves in a way that sounds like meat". Some 47% agreed that meat-free products shouldn't use words like sausage and burger, with the figure rising to 50% words such as steak or bacon.
Researchers also found 60% of consumers felt meat-free products should be displayed in a different chiller or aisle.
Brands that offered both meat and meat alternative products, such as Richmond, Better Naked and Heck, had the potential to be particularly confusing, the study pointed out, and were low down on the "clarity spectrum" when shoppers were asked to identify products on a virtual supermarket shelf.
Different categories
"As meat-free products get better at replicating the look of meat, shoppers can also feel they have been misled," AHDB said. "There may be a consumer benefit for retailers to keep these two areas separate alongside clear labelling of the two different categories," it added.
"This is likely to benefit all concerned, resulting in a more logical shopping experience."
It comes as data published by NIQ this week revealed that plant-based categories were struggling for growth.
Veganuary unit sales in 2023 fell by 16.8% for chilled meat alternatives, with sales of frozen meat alternatives falling by 13.5% compared to 2022 figures, NIQ said.
Plant-based alternatives still cost significantly more than standard ranges despite slower inflation, with NIQ suggesting it was likely shoppers were becoming more price-sensitive.
"UK consumers are being faced with challenging economic pressures, and price is an important factor dissuading flexible eaters from buying into meat and Dairy alternatives in the current climate," said Katrina Bishop, UK thought leadership activation manager at NIQ.