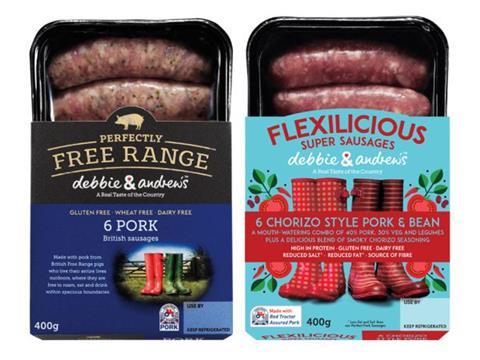 Twelve years after Debbie & Andrew Keeble sold their eponymous sausage brand, it has all but disappeared from supermarket chillers.

Debbie & Andrew's, which the Keebles sold to JJ Tranfield in 2005 and is now owned by ABP, has suffered a spate of big four delistings of its fresh sausages in recent months, though it has picked up listings for a new frozen range.

Asda delisted four chilled Debbie & Andrew's SKUs in mid-September, with a spokeswoman claiming the move was part of its ongoing range reviews to "ensure we have the best selection of products in place for our customers".

The brand's chilled sausages also disappeared from Sainsbury's the previous month and Tesco in March [Brand View 52 w/e 4 October 2017]. Morrisons, the only big four mult still selling chilled Debbie & Andrew's sausages, also appears to have delisted several lines.

At the same time, however, two new frozen Debbie & Andrew's sausage SKUs have been listed in Tesco, marking the brand's first foray into supermarket freezers.

Owner ABP wouldn't comment on the future of Debbie & Andrew's in the fresh sausage market, but said it remained "committed" to innovation. "We have launched a new frozen sausage range with Tesco stores nationwide with wider listings confirmed with other retailers across the market," a spokesman told The Grocer.
"In the fresh category, [ABP] has recently partnered with Men's Health where it is producing a range of health-focused sausage products for sale in a number of leading retailers."

Supermarket sales of Debbie & Andrew's sausages have plunged by 37.1% over the past 12 months, from £7.7m to £4.9m. In contrast, Heck - the brand set up by the Keebles in 2013 after a failed bid to buy back their original company - saw sales surge another 51.5% to £26.7m, while Porky Whites is now worth £7.2m after seeing sales surge 109.3% [IRI 52 w/e 23 September 2017].