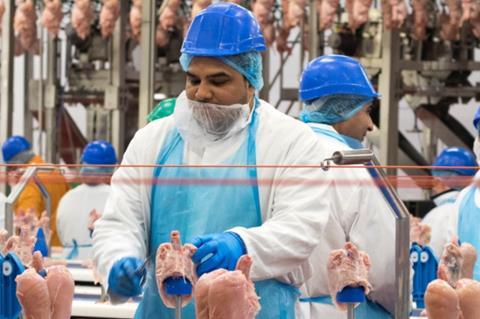 Trade union Unison has lodged a complaint with the Health and Safety Executive over how the FSA has handled the growing number of coronavirus outbreaks in meat processing plants.
Failure by the FSA to carry out "basic on-site Covid-19 safety assessments" had put hundreds of workers at risk of coronavirus infection in meat slaughter and processing plants in England and Wales, Unison claimed today. Those at risk included FSA inspection staff working in slaughterhouses, and the staff of FSA contractor Eville & Jones, the union added.
It follows major outbreaks of the virus at plants owned by the likes of 2 Sisters Food Group, Kepak Food Group, Rowan Foods and Asda in recent weeks.
Unison had "repeatedly" pressed the FSA for detailed risk assessments of food business operators throughout the coronavirus pandemic, it said in a letter to the HSE, seen by The Grocer.
However, the union claimed only generic assessments had been completed on a region-wide basis that did not look at safety arrangements in individual businesses.
Citing the difficulty meat sector staff often faced in keeping to social distancing guidelines, Unison said the FSA should carry out individual plant visits and complete thorough plant-specific risk assessment "to ensure a safe working environment for staff".
Additionally, when the FSA had attended meat factory premises, union health and safety representatives were not allowed to accompany the body's inspectors, it claimed, as it warned the regulator's "hands-off approach" was putting members at risk of contracting Covid-19.
The union represents hundreds of meat safety inspectors and vets that work in slaughterhouses, as well as environmental health officers who visit processing firms.
"It was clear from the beginning of the pandemic there were potential and serious dangers in the meat industry," said Unison national food safety officer Paul Bell.
"Recent Covid-19 outbreaks have shown attention was needed from the start. Urgent action is required to make sure meat preparation businesses are safe," he added.
"Staff and consumers will understandably be worried, particularly as the two-metre rule is relaxed. All employers must have proper safety measures in place and the FSA needs to visit each and every workplace to protect staff and restore confidence in the food on our plates."
Unison's concerns echo those of fellow trade union Unite earlier this month, which warned it was aware of "more than five other sites" in the UK where there had been Covid-19 outbreaks.
The union's complaint follows confirmation on Friday that pork giant Tulip was the latest meat processor to report cases of Covid-19 in its workforce.
Tulip said three staff had tested positive and were self-isolating, while another 16 employees identified as having close contact with them were now also isolating at home in line with government guidelines.
Some 35 Covid-19 cases had now been confirmed at its Tipton site since March, it added. The plant is due to close later this year as part of a reorganisation of Tulip's manufacturing estate.
Responding to Unison's complaint, an FSA spokesman said the safety of its staff had been its "top priority" since the start of the coronavirus crisis.
"At the outset of the lockdown in March, we provided specific advice for the meat industry outlining the measures they needed to introduce. We also assessed the risks in each plant to make sure our key worker staff were protected by appropriate social distancing and increased personal hygiene measures," the spokesman added.
"We continue to work closely with other public health bodies including the Health and Safety Executive to respond to clusters of cases in meat plants. Further decisions on any additional measures which may be required are made on a case by case basis following advice from multi-agency discussions."