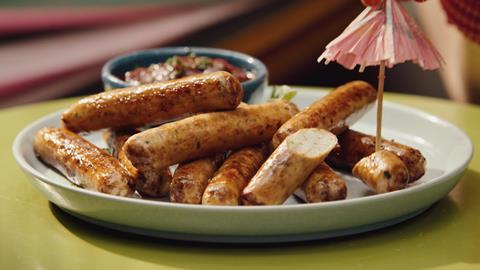 Sausage brand Heck has launched its first-ever TV ad, which is due to debut during Channel 4's Celebrity Gogglebox on 3 July.
Using the strapline 'Make this Summer Happy as Heck!' the ad was filmed during lockdown and is due to run for the next 12 weeks.
Designed to showcase Heck's growing meat and plant-based sausage and burger line-up, the ad follows the launch of a new frozen sausage range into Waitrose and Sainsbury's in March.
TV advertising, alongside more NPD, increased distribution and more export sales were all part of an ambition to become a £100m food brand by 2025, according to co-founder and commercial director Jamie Keeble.
"The last few months have been an unprecedented time for food manufacturing," said Keeble.
"As a team, our focus initially was on our team and community and helping where we can. Then we looked at how we could respond to the new way of shopping and eating, and we launched the new frozen range, which has been incredibly popular," he added.
"We now feel it is time to go onto TV and raise awareness of our range as we literally have something for every taste and occasion."
The brand saw sales rise by £2.5m to £23.6m for the 12 months to 31 July 2019, and was on track to hit £50m in revenues by the end of this year, said Keeble's father and fellow Heck co-founder Andrew, in an April interview with The Grocer.