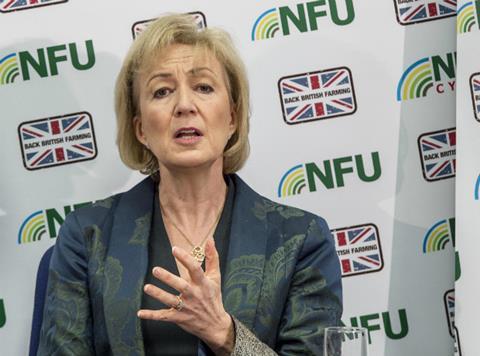 Environment secretary Andrea Leadsom has played down fears that a post-Brexit free trade deal with the US would result in an influx of lower quality meat to Britain.

Speaking to The Grocer at the NFU's annual conference in Birmingham today, the secretary of state for the environment was relaxed over the potential threat, which has been in the headlines since new US president Donald Trump suggested he would be keen to forge a free-trade deal with the UK.

The American Farm Bureau has hinted the US agriculture sector had big ambitions to export meat to the UK, raising concerns the we could face an influx of meat produced using methods that are currently banned under European law.
US Embassy counsellor for agricultural affairs Stan Phillips reiterated America's position at the conference, stating consumers should have the chance to chose whether they wanted to consume hormone-treated beef. "The scientific evidence is there, it's not a problem, it's safe," he insisted.

However, UK meat and poultry sector leaders have warned allowing imports of meat produced using these American farming techniques - including growth hormones in beef, or chlorine washing of chicken - would be a retrograde step and could damage the British industry.

Leadsom insisted the government would be "clear" on its position regarding food production standards in any free-trade discussions.

"The US is a really important partner for the UK, and it's a very clear priority relationship for us, but in any free-trade agreement there are two sides, and we have been very clear in our manifesto that high animal welfare standards will be a core part of any international trade arrangements," she said.

Referring to concerns - most recently voiced last week by ABP's UK boss Tom Kirwan - that the UK should not lower its standards in order to compete with imports from countries such as the US, Leadsom added she had also been clear the UK would not "seek to put ourselves in an uncompetitive position" by reducing welfare or food safety or traceability standards. "It's a very key USP which we don't want to undermine," she added.
Workforce concerns

Leadsom's comments came after NFU president Meurig Raymond urged the government to make a success of Brexit in his opening speech for the conference.

"Over the next two years, negotiations will take place which will have a massive impact on farming and Britain's ability to have a thriving food production system. Brexit needs to be successful for farming," Raymond said.

He insisted unrestricted access to the European single market, access to a "competent and reliable workforce" and the development of a new agricultural policy "which assists the development of an increasingly productive, progressive and profitable sector" would be crucial post-Brexit.
Raymond warned food would "rot in fields" and Britain would lose the ability to produce and process its own food, unless the government moved quickly to secure the future of migrant workers.