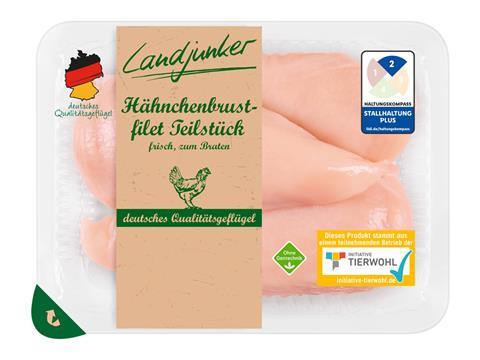 Lidl is exploring introducing a ground-breaking new method of production labelling system for its fresh meat products in the UK, following a successful launch in Germany.
The Haltungskompass ('method of production compass') was introduced on fresh beef, pork, chicken and turkey lines in Germany in April. It gives each product a score out of four based on how it was produced, allowing shoppers to see, at a glance, how welfare and production standards compare across different products.
The four levels are defined by Lidl in line with standards of Germany's Tierschutzbund and work as follows: Level 1 ('Stallhaltung') stands for cage systems that meet minimum regulatory requirements; Level 2 ('Stallhaltung Plus') is for enriched cages; Level 3 ('Aussenklima') ensures free-range access as well as non-GM feed; while Level 4 is reserved for organic production.
Each level also has its own colour assigned.
Lidl is the first German supermarket to introduce method of production labelling of this kind and has received widespread applause for the move. It has also committed to raising at least 50% of its own-label fresh meat to Level 2 by the beginning of 2019, and 100% in the long term.
A spokeswoman for Lidl UK said the German launch had been "very well received" by consumers and the discounter was now considering bringing the system to the UK. "We are exploring whether this would be of interest to our British customers," she added.
Before any decision is made, Lidl is likely to carry out extensive consumer research as well as trials to ensure the system is a good fit for UK shoppers.
If Lidl's four-level labelling system were to come to the UK, it would raise questions as to how existing labelling schemes – such as Red Tractor and RSPCA Assured – would be affected. In Germany, existing welfare, quality and provenance marques are used alongside Lidl's new label.
Calls for mandatory labelling
It comes as there are growing calls for mandatory method of production labelling in the UK. In March, the Labelling Matters coalition, which includes RSPCA Assured, the Soil Association and Compassion in World Farming, called for clearer labelling to help consumers understand what different production systems mean.
A key concern for campaigners is that production descriptors such as "outdoor bred" often mean little to consumers when used in isolation, and that proprietary terminology used by brands and retailers can
In Germany, Netto has since followed Lidl's lead and introduced its own four-level labelling system (called a 'Haltungszeugnis'), which looks slightly different but uses the same colour scheme and terminology as Lidl's.