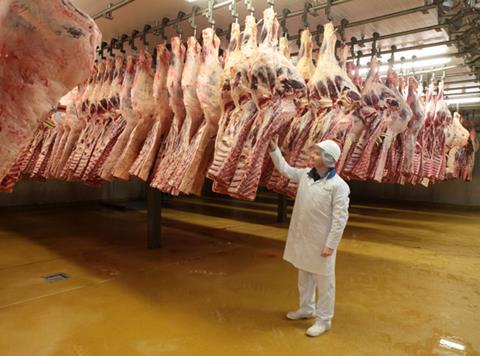 The government is being urged to "show pragmatism" on the relaxation of some food safety regulations in order to ensure red meat remains readily available during the coronavirus crisis.
While there was currently no risk of meat shortages from the covid-19 pandemic, the introduction of some regulatory "flexibility" would be required to ensure continuity of supply, suggested British Meat Processors Association CEO Nick Allen.
Meat sector bodies were in "daily, ongoing discussions" with Defra and the FSA over how to support meat processors, he added.
Action was particularly important in light of the drop off in demand for meat in foodservice and the increase in demand for beef from the retail sector, said Allen. This meant some processors would also need greater understanding from customers on specifications, he pointed out.
Among a host of measures, processors have been calling for a review of rules around country of origin – which could see, for example, suppliers allowed to mix beef mince from countries such as the UK and Ireland together. This is a measure that is currently allowed with lamb but not permitted under beef grading rules.
There have also been renewed calls for the abolition of the 10-day use-by-date rule – which recommends chilled vacuum or modified atmosphere packaged meat stored at 3°C to 8°C be given a maximum shelf-life of 10 days. It follows new advice from the FSA's main scientific advisory body in February, which suggested it was safe to extend the rule to 13 days. Though the FSA is yet to implement the advice and the BMPA said its own research showed at least 21 days (for beef) would be perfectly safe.
Processors have also called for changes around the employment of official FSA vets in abattoirs. This was a "pinch point" in supply chains that could leave the sector exposed in the event of vet shortages, Allen said. "If you don't have a vet you don't have an abattoir," he stressed.
"Meat inspectors could undertake some veterinary duties in processing plants," said Association of Independent Meat Suppliers head of policy Norman Bagley.
"If there is a problem, plants could also call for a local vet instead. This is already the situation in poultry plants and would allow the sector to be more flexible when it comes to staffing. The abattoir is at the lowest end of the risk scale, so measures like this could ease issues around production," he added.
"What we're trying to do is forsee some problems and calling for some pragmatism if they arise," said Allen.
"There is no way we would want to jeopardise food safety, but with a bit of pragmatism we could help the whole supply chain."