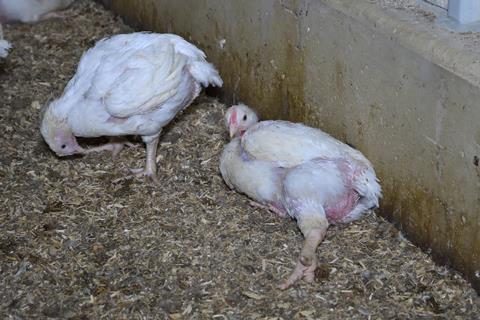 British supermarkets have launched investigations into welfare practices at major poultry supplier Moy Park after undercover footage allegedly showed cramped conditions and suffering chickens at three of its UK farms.
The footage from Animal Equality, which claims it uncovered "horrifying conditions" at three of Moy Park's facilities, shows lame chickens who are unable to stand as well as carcases that had been "left to rot for days".
The undercover filming allegedly took place earlier this year at the Red Tractor-certified producer's Saltbox, Ladywath and Mount farms in Lincolnshire.
Independently of these allegations, it was revealed in The Guardian that the three facilities had not met Red Tractor's standards for animal welfare during separate audits in April, May and June.
However, only the farm audited in June was still in breach of the food assurance scheme's code and it was currently within a 28-day grace period to resolve its issues, Red Tractor confirmed.
Moy Park, whose customers include Tesco, Sainsbury's and Ocado, said it was "fully investigating" any welfare issues at its facilities.
"We have a zero-tolerance attitude toward anything that jeopardises the health and welfare of our birds," said a spokeswoman.
"We have robust processes in place to carefully monitor the welfare conditions for our birds and we have regular independent audits, taking corrective action with our farming partners if required."
Red Tractor said it was working with Moy Park to resolve the code breaches.
"High animal welfare is one of our top priorities and we take any allegations of breaches to our standards seriously," said a spokeswoman for the scheme.
"Our own routine auditing of these farms had identified some breaches to our high standards, and we have been working with them to ensure they put the necessary processes in place for them to remain Red Tractor certified."
Supermarket investigations
Moy Park accounts for 30% of the UK's total poultry production and several supermarkets told The Grocer they were now looking into chicken welfare at the Northern Ireland-based company's farms.
"All our suppliers are expected to meet our high welfare standards and we are investigating this footage," said a Sainsbury's spokeswoman.
Tesco also confirmed it would be looking into the allegations. "We have strong procedures in place to ensure the welfare of the animals in our supply chain," said a spokesman for the supermarket.
"We expect all our suppliers to meet the recognised farm assurance standards, including Red Tractor certification, as well as our own stringent, industry-leading requirements. We are working closely with our supplier to fully investigate this."
Ocado also stated it would be launching an investigation. "Animal welfare is extremely important to Ocado," said a spokeswoman. "We carry out regular audits of all our suppliers to ensure the welfare of livestock is managed to the highest standards. We take these allegations very seriously and are working closely with our supplier to fully investigate."