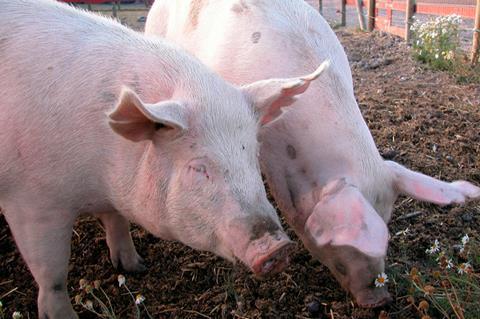 A spate of recent Covid cases at pig processing plants, coupled with related export delays and a surge in demand ahead of Christmas, has led to a weekly backlog of at least 40,000 pigs on farms across the UK, The Grocer has learned.
Such a backlog of unprocessed pigs meant the sector was on a "knife edge", suggested one industry source, with any further delays in slaughtering having the potential to impact on pig farm animal welfare.
Covid cases at processing plants over the past six months, including the temporary closure of Cranswick's Ballymena plant in August – and positive tests at a number of other sites operated by other major processors including Pilgrim's Pride – are all understood to have contributed to the backlog.
The situation has also been exacerbated by the automatic withdrawal of factories from exporting to countries such as China following any major Covid clusters. Cranswick's Ballymena site, for example, has only recently restarted exports, while the processor's Watton site in Norfolk is yet to recommence overseas sales after a significant number of coronavirus cases were confirmed in October.
"Everyone is already operating to near maximum numbers," said a senior pork sector source. "So while processors can look to increase kills at the weekend, there's not a great deal of extra capacity to catch up."
As a result, pigs were having to be held back on farms, added the source, as they stressed the importance of keeping plants running, and echoed the British Meat Processors Association's recent call for meat sector workers to be prioritised for Covid vaccinations.
Animal welfare
Pigs were also larger this year, the first source said, adding to potential concerns over animal welfare on crowded farms. "We could see real problems if we have any more delays to production across the supply chain," they warned.
"It's quite an invidious situation, and we could see a perfect storm in January unless it is dealt with. Defra needs to step in and look at what can be done to release the pressure valve and find some way of potentially taking some excess product off the market."
National Pig Association CEO Zoe Davies confirmed disruption in the supply chain had led to "a knock-on effect", but stressed "at the moment, our contingency plans are holding".
But with industry figures warning "if something else happens, there could be an issue", Davies said the sector was planning for all eventualities now.
"The key is in getting those China exports back up and running and the BMPA's call for early vaccines [to be actioned]," she said.
"It's tight but as long as pigs keep moving we'll be OK. What would be lovely, however, is if retailers could also recognise the situation and help us [with promotions], particularly in January, which has traditionally been a bad time for pork sales."
A Defra spokesman said it was working closely with the pig sector on the issue and was "closely monitoring the impacts of any coronavirus outbreaks across the food industry to ensure we are fully aware of the scale and risk of any outbreaks".
It follows similar concerns in the poultry sector earlier in the summer following a series of manufacturing disruptions due to Covid factory outbreaks.