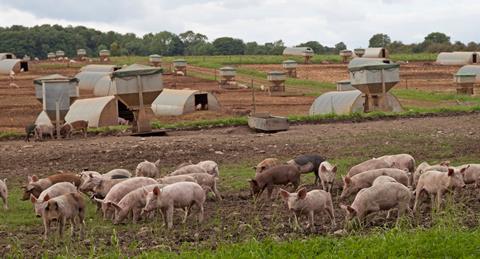 Pig producers still face an uncertain future, despite the government's deal with gas supplier CF Industries to restart CO2 gas production on Wednesday, the National Pig Association has warned.
Some industry estimates put the backlog of pigs on farms across the UK at 110,000 on Wednesday due to the impact of CO2 shortages on processors and already critical shortages of labour in the supply chain.
This figure had grown from about 95,000 last weekend, when NPA CEO Zoe Davies warned producers would soon need to start culling healthy animals over welfare concerns.
And while the deal to restart CO2 production was welcome, she warned the sector remained in a precarious position, with the threat of culling "still there".
"The agreement pushes that cliff edge back, but it sounds like the cost of CO2 is about to go absolutely bananas, and that will have an impact on the whole supply chain," she said.
"It won't solve the underlying labour issues. And the agreement between CF and government is only for three weeks," Davies added. "So, if the backlog isn't cracked during this time we will see inevitable problems."
Davies' comments were echoed by major pork producer Pilgrim's UK, which said it "welcomed the government's intervention".
However, "this is clearly a short-term fix to what is a long-term problem, and it won't stop consumers being affected by price rises", said a spokesman for the supplier.
His remarks contradicted those of Defra secretary George Eustice, who suggested in an interview with the BBC on Wednesday that any rise in CO2 gas prices would have a minimal effect on prices.
The events of the past week had also "highlighted how fragile the gas supply chain is, with its over-reliance on a few producers", the Pilgrim's spokesman added.
"Unless we do something collectively as an industry, this will happen again," he said.
"We need a stronger solution to this problem. CO2 is one of a handful of issues affecting the industry, which also includes labour shortages, lower trade volumes with the EU and ongoing issues with the exports to China."
The risk to consumers from this disruption was a decline in the UK pork sector as producers exited the market, leading to a further drop in self-sufficiency and an increase in "lower-quality imports", he added.
It comes as Pilgrim's this week warned the future of the Quality Pork Processors business it part-owned in Brechin, Scotland was in the balance, due to the impact of a ban on imports by China, imposed earlier this year.
After warning the losses incurred by the plant were "unsustainable", Pilgrim's agriculture director Andrew Saunders told The Grocer the business was in discussions over a restructure at the site, with no end to the impasse in sight due to the current political enmity between the UK and China.