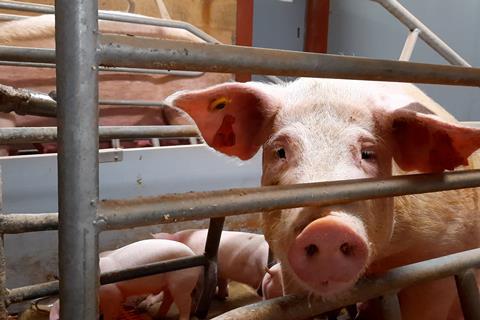 Pork giant Pilgrim's UK has suspended a farm in its supply chain after it was implicated in a series of alleged animal welfare rule breaches.
Scottish pork producer P&G Sleigh was accused of the breaches in a report published by the Times today (based on undercover filming by campaign group Animal Equality UK), which appeared to show footage of staff inflicting a series of violent acts on pigs.
The footage included a worker hammering pigs to death and sows with severe injuries, including organs protruding from their bodies, The Times reported. Staff at the indoor unit also failed to treat pigs promptly after being informed they were suffering serious wounds, Animal Equality claimed.
Pigs were also shown gasping, wriggling and showing signs of consciousness after blows with a hammer to the head.
P&G Sleigh has also been suspended by retailers including Lidl and Tesco, which described the conditions shown on the farm as "unacceptable". It supplied pork to Pilgrim's via Brechin-based processor QPL, of which Pilgrim's is the sole customer.
A spokesman for Pilgrim's described the footage, shot earlier this year, as "unacceptable and completely at odds with the standards we require of our suppliers. We strongly condemn the practices shown".
The farm's operator is Philip Sleigh, who was a member of the Quality Meat Scotland board until earlier this month and had helped draw up welfare standards as chairman of QMS' pig standard setting committee.
Sleigh was "no longer a member of the QMS board or any QMS committees", a spokeswoman for the body said today.
Non-compliance
"After reviewing the footage and assessor investigation, QMS has withdrawn this member from our quality assurance scheme for non-compliance with our standards," she added.
"Animals must be handled humanely and with respect. Pigs that do not respond to treatment or require emergency euthanasia must be promptly and humanely euthanised by a trained and competent person in line with the Pig Veterinary Society casualty pig publication."
QMS declined to comment further, citing an ongoing active investigation into the breaches. The Grocer has attempted to contact Sleigh for comment.
"The ever-growing body of evidence we are building is a damning indictment of this cruel industry," said Animal Equality executive director Abigail Penny. "This is what British bacon looks like."
The group also cited the opinion of Professor Andrew Knight, veterinary professor of animal welfare and ethics at the University of Winchester, who described the filming as "some of the most disturbing footage" he had ever seen.
National Pig Association CEO Zoe Davies said the behaviour highlighted in the footage was "not acceptable and will not be tolerated".
"The UK pig sector takes allegations of the mistreatment of pigs incredibly seriously and as soon as aware will always encourage the relevant authorities to investigate as we did in this instance," she added.
"As with all livestock farming, however, pigs do sadly become ill or injured and when they do not respond to treatment, will need to be euthanised. What matters is the skill, expertise and care exercised by the stockperson in identifying problems and dealing with them appropriately."
Though euthanasia was a permitted legal practice and could be conducted in a variety of ways, dependent on the size of the pig, in this instance the footage depicted "poor practise with regard to the method of euthanasia used and pig handling, which we do not condone and find totally unacceptable", she said.
However, Davies added it was "also important to highlight that if Animal Equality were so concerned about the welfare of the animals on the farm, they should have alerted the relevant authorities immediately to ensure any animal welfare breaches were quickly addressed, rather than wait for four months to release the footage".