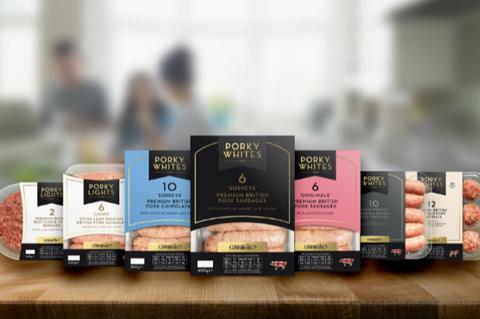 Porky Whites is set to roll back onto shelves in Sainsbury's as the sausage brand continues its turnaround after the collapse of its parent company last year.
The Surrey-based brand, which was saved by the founding White family in November, is now trading under the name Porky Whites Ltd after G White & Co was placed into administration during the same month.
The name change means the company has had to re-apply for a supplier number and a re-listing with Sainsbury's, a process MD Fran White said was slowed by the Christmas period.
She said a re-launch date for regional listings in Sainsbury's was expected "any day now", with similar deals with Tesco, Morrisons, Asda and Waitrose already completed.
"We've been through a really difficult time. We're going into our third month of trading as Porky Whites Ltd and we've stabilised the business," White added.
"We're very confident in what we're doing – we're forward-thinking and looking at changing a lot."
Part of this forward-thinking approach had been encapsulated by Porky Whites' taking out of a trademark for a plant-based sausage line, she said.
It registered the name 'Veggie Whites' with the Intellectual Property Office on 6 January, with a view to potentially launching a product this year.
"We're all very aware of where the market's going and are in early-stage discussions with some strategic partners," said White. "Hopefully we could bring a bespoke branded product to shelves."
Other projects the company is undertaking include more of a push into both wholesale and foodservice.
It marks a significant turnaround for a business that came close to the brink in November 2019 after an own-label sausage supply deal with a supermarket quickly turned sour.
Pulling out of the contract led to a dispute with the retailer over a loss of profit claim – a development that had a major impact on the company's bottom line and saw it lose its banking facilities.
This situation had been alleviated after a "really encouraging" first 10 weeks of trading, which had seen "some lines of credit appearing", according to White.