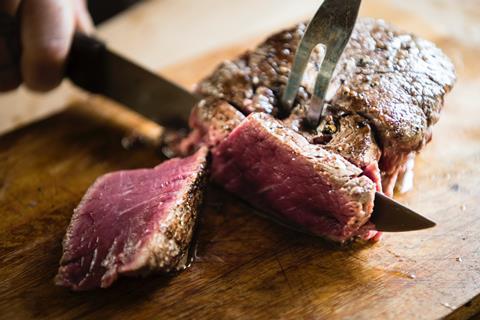 The red meat category enjoyed its "best Christmas on record", while dairy and fresh produce also benefited from a festive sales bounce from locked-down shoppers, new data from AHDB has revealed.
Though some turkey suppliers hailed a "one in a million" Christmas, as reported by The Grocer last month, analysis of Kantar data by AHDB [4 w/e 27 December] shows that while it remained "an important part of Christmas", turkey was outperformed by other proteins.
All roasting joints saw volume growth, with gammon bought my more households than any Christmas cut, as volumes grew by 3% to 9,300 tonnes compared to Christmas 2019.
But beef was the big winner, said AHDB retail insight analyst Grace Randall, with a break in normal Christmas traditions due to the pandemic and "fewer or no guests meaning people could cater to their personal tastes", as they sought out smaller joints in larger numbers.
As a result, beef roasting joints enjoyed an 18% jump in retail volumes to 9,100 tonnes. This was the culmination of a strong year for beef, which increased its popularity and took its share up to 15% of roasting and whole cuts, she added.
Pork roasting joints also performed well, with an even larger jump in volume sales of 25%, albeit from a smaller base, taking total volumes to 5,400 tonnes. Processed pig meat also had a great Christmas with volumes up 9.8%. Bacon contributed the most growth (+1,900 tonnes) followed by sausages (+1,300 tonnes).
In contrast, turkey volumes were down 4% to 19,300 tonnes, while whole fish volumes also dropped 4% to 2,200 tonnes.
Online also performed well for MFP, although it still under-traded, Randall added. But red meat also performed strongly at butchers over Christmas with volume growth faster than the total market for beef roasting joints (+62%) and lamb roasting joints (+38%).
Elsewhere, dairy sales enjoyed a bumper 14.1% increase in volumes over Christmas, with yoghurt sales climbing 18.9% and cheese – which enjoyed a particularly strong year – seeing volumes climb 16.7% on the previous Christmas period.
Meanwhile, carrots (+14%), parsnips (+5.1%), potatoes (+14.1%) and even sprouts (+7.2%) also benefited from a bounce in sales.
With total grocery volumes up 11.7% "Covid-19 delivered a Christmas like no other", Randall added.
But citing IGD research that suggested half of consumers want to return to a normal Christmas for 2021, she warned maintaining this momentum when there were larger gatherings would require the beef sector in particular to "remind consumers about the great taste of beef".