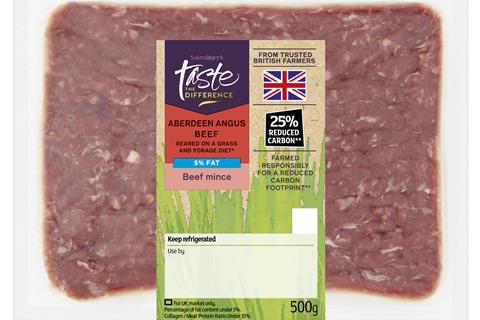 Sainsbury's has launched a new Taste the Difference beef range with a 25% lower carbon footprint compared to industry standards.
The premium Aberdeen Angus-based British beef range launches today in stores served by its northern depots, and was described by the retailer as "the largest low-carbon beef range ever produced in the UK".
Developed in conjunction with Sainsbury's meat supplier ABP Food Group, the new range also provided a "more consistent product, offering the optimum thickness for cooking", with Aberdeen Angus naturally suited to a grass and forage diet which then helped produce a higher marbling content, "resulting in additional flavour and great-tasting product".
The retailer's agriculture director Gavin Hodgson told The Grocer the range's launch across its estate would be rolled out in phases over the coming months, backed by a "big in-store execution".
New packaging signposts the beef's 25% reduced carbon credentials, with the 16-strong range made up of popular cuts such as a 30-day rib eye steak, a 30-day beef roasting joint and 12% and 5% fat mince.
The launch had been made possible by bringing together Sainsbury's dairy and beef supply chains, "reducing carbon through a combination of superior cattle breeding and animal management", the retailer said, in methods it claimed could "revolutionise how beef is produced in the UK".
Measures such as strictly monitored feed and living conditions meant healthy calves were raised in the most efficient way possible, needing less time and energy to grow, in turn emitting fewer harmful gases, it added.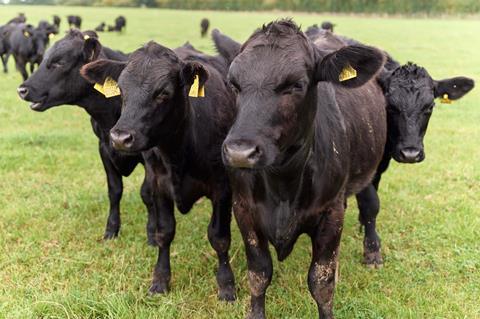 The range also offered farmers a "unique" fixed forward pricing model, based on the cost of production, providing them with greater stability and security. The model effectively created a fully integrated beef supply chain for Sainsbury's farmers that insulated them from market volatility, Hodgson said, with Sainsbury's offering financing opportunities for the farmers that finished the cattle.
The retailer also equips farms with advanced free-of-charge technology which generates in-depth data to help them make better farm management decisions.
These factors made beef farming "more accessible for young entrants", it claimed.
The new range represented "another step forward" in Sainsbury's ambition to become net zero across its own operations by 2035, and value chain by 2050, in line with the Paris Agreement's aim of limiting global temperature rise to 1.5C, it added.
"More customers than ever want high-quality beef with a lower carbon footprint and that's why we've invested many years of research and development into transforming how we produce it," Hodgson said.
"Our updated lower-carbon premium beef range not only tastes great but is positive news for our farmers too, who will benefit from more security and stability, supporting the future growth of UK agriculture. We're excited about the possibilities this move could hold for the future of farming in the UK."
Ruth Cranston, director of corporate responsibility and sustainability at Sainsbury's, added: "We know that more customers are wanting to make responsible choices when buying food so we sought to find a solution which gave them high-quality, great-tasting beef which is lower carbon.
"It also shows what can be achieved through genuine collaboration with farmers and suppliers. No one else has been able to produce a lower-carbon beef range on this scale and we hope this launch will set a leadership example of what is possible in the industry."
The move follows the announcement of a £6m investment in Sainsbury's milk supply chain earlier this month, which includes supplementary payments for sustainability achievements by its farmers.