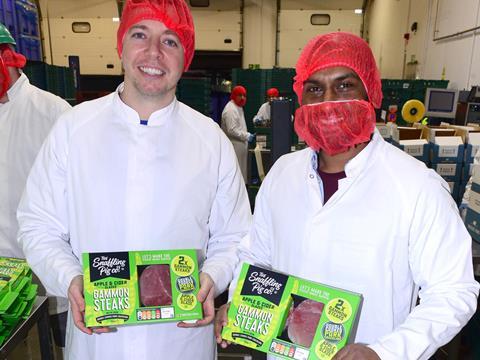 Premium pork snack brand The Snaffling Pig Co has teamed up with processor Tulip for its first venture into fresh meat.

The brand has launched a range of 100% British gammon steaks, featuring Snaffling Pig pork crackling in two initial variants: Maple Glazed Gammon with Maple Crackling, and Apple & Cider Gammon with Double Cooked Crackling.

The steaks, processed at Tulip's Westerleigh site, went on sale exclusively in Sainsbury's this week (rsp: £3.99/two-pack).
The products were created to offer a quick easy meal time solution, that was designed to drive growth and premiumisation into the £283m gammon category, said Snaffling Pig founder and CEO Nick Coleman.
"Flavour is crucial to us. We've had great success with our pork snacks, and now we're on a mission to change perceptions that gammon is old fashioned and lacks versatility."
The new range was "bold, exciting and flavourful", he added, and brought "excitement" to the shelf with its colourful packs and branding, which appealed to "a younger audience than is typically buying the cured meat at the moment".
The gammon category had big potential for growth, added Tulip senior customer marketing manager Daniel Thiem. "We think the Snaffling Pig steaks will bring the product back to front of mind for shoppers."
More flavours and categories to take the Snaffling Pig brand were in development, added Coleman. The launch will be supported by a wider marketing campaign, engaging food influencers across social media, as well as product sampling using Snaffling Pig's ice cream van.