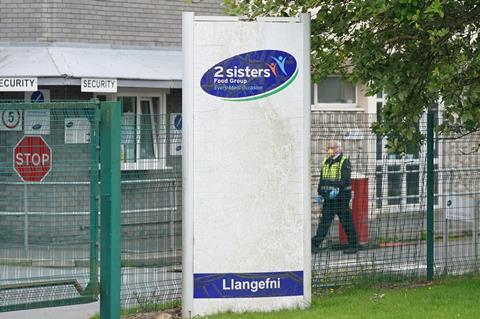 The number of positive Covid-19 cases confirmed at UK food manufacturing plants has rocketed to more than 600 over the past week, amid criticism by trade unions over the safety of staff.
Public Health Wales reported the number of cases at 2 Sisters Food Group's factory in Llangefni on Anglesey had risen to 216 at the time of The Grocer going to press on Thursday. A total of 237 had been confirmed at Wrexham's Rowan Foods plant, while 134 cases had been discovered at Merthyr Tydfil's Kepak factory.
Tulip confirmed three staff had tested positive at its Tipton plant in the West Midlands on 26 June, with a further 16 employees identified as having close contact with them now isolating at home. Meanwhile, Walkers Crisps confirmed 28 cases at its factory in Leicester on Wednesday, following a "steady increase" during June.
The increasing prevalence of the virus in food manufacturing plants highlighted the "widespread exploitation of migrant workers on low pay and insecure contracts", claimed trade union Unite this week.
Although conditions in refrigerated meat processing factories had been cited as a risk factor for coronavirus transmission, Unite said there was also "a direct correlation between the treatment of migrant staff as 'disposable assets' and the spread of the disease in such environments".
That link "must be addressed", it urged, suggesting some companies had not given staff that needed to self-isolate company sick pay or any other financial support.
Industry employment standards were also directly linked to overcrowded housing, which was a contributing factor to the risk of outbreaks within factories, the union added, citing its own research showing 43% of 150 workers polled lived with two or more colleagues, while 65% attended work whilst unwell.
However, the British Meat Processors Association rejected the "sweeping claims of low pay and insecure employment" as "not accurately reflecting reality".
Contrary to Unite's suggestion of a systemic problem, only 10 of 1,079 UK meat plants had experienced instances of Covid-19 over what was already prevalent in the wider community, it said.
Nor had there been any indication from government it saw a particular problem with the meat industry, the BMPA added. "Infection rates mirror what's happening elsewhere in the population."
"Far from offering insecure or zero-hours contracts, our members hold on to their staff by offering them stable, permanent employment and a fair wage. Indeed, most overseas workers typically stay for two years or more," said BMPA CEO Nick Allen, pointing to the sector's well-documented shortage of skilled labour and the need to retain staff.
It comes as the fellow trade union Unison this week slammed the FSA over its handling of food plant outbreaks. In a complaint to the Health & Safety Executive, it said the FSA failed to carry out "basic on-site Covid safety assessments, and put hundreds of workers at risk of coronavirus infection".
However, the FSA said safety had been its "top priority" since the start of the coronavirus crisis.